You've Got Junk Mail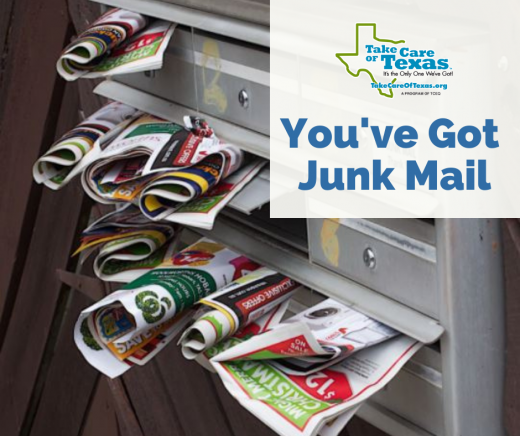 Are you tired of the junk mail madness? How much paper is being wasted? What can you do about it?
According to research from the Center for Development of Recycling, each U.S. household receives around 40 pounds of junk mail annually. This equates to more than 4 million tons from over 77 billion pieces of junk mail each year. Most of this ends up in our landfills!
Stop the Junk Mail
If you're receiving junk mail and want to opt out, here are some resources to help you do that:
Prevent the Junk Mail
Your personal information is a desired commodity for marketers and even scammers. Here are some quick tips to help:
Go green with paperless options — Most organizations and businesses you want to hear from have online or email notification options, instead of paper mail.
Just say no to selling personal info — When ordering a product, submitting warranties, donating money or filling out forms, write, "Please do not share or sell my information." Organizations can flag your name in their system, thus preventing your information from being abused.
Return "high-end" junk mail — For First Class mail and mail marked "Address correction requested" or "Return postage guaranteed," cross out the barcode and write "Return to Sender — Refused by Addressee" on the front. You can also write on the envelope "Please remove my name from your mailing list," so the sender knows why you're returning it (see USPS for guidance).
Call or write bulk mailers — "Junk mail" senders pay a lower postage rate, so the USPS might not return undeliverable or unwanted mail to them. Open the mail and look for an 800 number or reply envelope, and then contact them and ask to be removed.
Junk Mail Makes Local Garbage
The paper mail you throw away likely goes to your local landfills, unless it's recyclable where you live. Junk mail is such an issue that many cities have resources to help you opt-out of mail. Check your city's website, or the links below for information specific to where you live: