What Uses the Most Water in Your Home?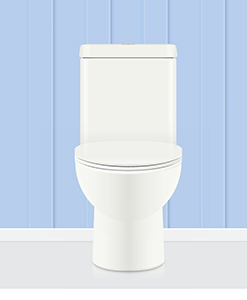 An average American family uses more than 300 gallons of water daily—70 percent of which occurs indoors. The largest use of household water is to flush the toilet, followed by taking showers and baths. Toilets account for nearly 30 percent of an average home's indoor water consumption.
Older, inefficient toilets can use as much as three to six gallons per flush. Your household can help curb water use by fixing toilet leaks and/or purchasing a new water-efficient toilet, most of which use 1.28 to 1.6 gallons per flush. WaterSense-labeled models can reduce water used for toilets by 20 to 60 percent, which can save nearly 13,000 gallons of water and $110 every year for the average family.
Nearly half of the respondents indicated in a recent poll that they are interested in upgrading to a more water-efficient toilet. On May 26-28, there is a Water-Efficient Products Sales Tax Holiday, which can make upgrades more affordable for water-efficient and water-conserving products. During the holiday period, any product that displays a WaterSense label or logo can be purchased tax-free.
Municipalities also often offer rebates on WaterSense products. The EPA has a WaterSense Rebate Finder.
WaterSense is a partnership program by the U.S. Environmental Protection Agency that helps consumers make smarter and more economical water choices and maintain high environmental standards. Products and services that have earned the WaterSense label have been certified to be at least 20 percent more efficient without sacrificing performance.
Does Your Toilet Have a Leak?
A leaky toilet can waste 200 gallons of water per day—that's 73,000 gallons a year. While some leaks are audible with a toilet that is often "running," some are less likely to be detected. Here is one way to detect a leaky toilet:
Remove the toilet tank lid.
Place a drop of food coloring in your toilet's tank.
Replace the lid—do not flush—and wait 10 to 15 minutes.
If the dye appears in the toilet bowl, you have a leak that can probably be fixed by replacing a worn toilet flapper—the rubber stopper at the bottom of the tank also known as a valve seal. These rubber parts can build up materials or decay over time, and are inexpensive to replace.
Be sure to flush immediately after the experiment to avoid staining the tank.
Tip: Bring the old flapper to the hardware store for comparison, or check the owner's manual or the manufacturer's website for the flapper part number. For more information about fixing leaks, visit the EPA's WaterSense website or their Fix a Leak Week page.
Resources: