What Do I Do With Used Batteries?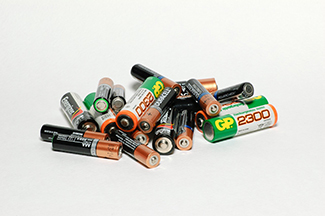 There are a few different kinds of batteries—dry-cell batteries, rechargeable batteries, and auto batteries—and knowing the correct way to recycle or dispose of them is important.
Dry-cell batteries, more commonly known as single-use batteries, can be thrown away, but it is better to recycle them. Rechargeable batteries, which can contain nickel or cadmium, and automotive batteries, which contain lead and acid, should be kept out of the trash.
Single-Use Batteries
Single-use batteries are used in a variety of electronics and include alkaline, carbon zinc, mercuric-oxide, silver-oxide, zinc-air, and lithium batteries. These are 9-volt, D, C, AA, AAA batteries, as well as coin and button batteries. These are found in remote controls, car keyless entry remotes, watches, hearing aids, flash lights, and other household items.
Dry-cell batteries can be thrown away legally in most states, since the Mercury-Containing and Rechargeable Battery Management Act passed in 1996, which phased out the use of mercury in alkaline batteries. However, a better choice is taking them to a collection site for recycling.
Americans purchase over three billion dry-cell batteries per year, which could be kept out of landfills.
Rechargeable Batteries
Rechargeable batteries commonly found in laptop computers, cellular and cordless phones, camcorders, digital cameras, and cordless power tools should not be thrown in the trash as they can contain mercury, cadmium, lead, and lithium. Most rechargeable batteries can be recharged up to 1,000 times, but when they no longer hold a charge—recycle them. If every Texas household recycled five rechargeable batteries a year, we could keep more than 46 million batteries out of landfills.
Auto Batteries (Lead-Acid)
Discarding or improperly disposing of a lead-acid battery is illegal in Texas. Texas law requires businesses that sell lead-acid batteries to accept your old one when you purchase a new battery.
Resources for Recycling
Visit RecycleNation.com for recycling sites for alkaline single-use batteries, rechargeable batteries, button batteries, cell phone batteries, and lead acid batteries. You can also call 1-800-RECYCLING.
Visit Earth911.com for information on recycling single-use batteries and other batteries.
Visit Call2Recycle.org to locate the closest battery drop-off location.
According to their websites, a number of stores will accept your old batteries.
Most household-hazardous-waste programs will accept single-use batteries. Find one near you.
Ask your local auto parts store or auto service shop if they will accept extra auto batteries for recycling.
Resources
*Please note: Manufacturers recommend that batteries should never be put in a fire because of possible explosions, and it is also important not to dispose of large numbers of alkaline batteries in a group as it can create safety risks.