Want to Know the Fundamentals of Collecting Rainwater?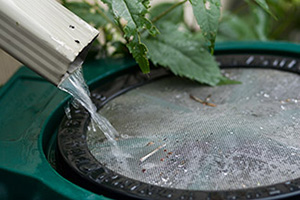 Rainwater harvesting is good for your wallet and the environment! Efficient use of water is critical in Texas because of its growing population and limited water supply. Even if you live in an area with low levels of rainfall, you can still conserve precious water, save money, and prevent flooding and erosion.
How to Build Your Own Rain Barrel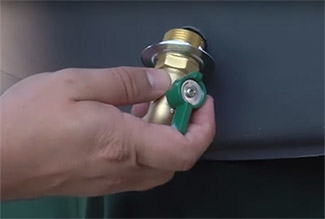 Some homeowners want a simple rain barrel or two on a couple of downspouts. This is a relatively easy project that can supplement your water needs in between rains. You can often find rain barrels at gardening supply stores, online, or at home improvement stores. Check out the abbreviated Rainwater Harvesting with Rain Barrels chapter in the Take Care of Texas Guide to Yard Care (12.7MB PDF), or order free copies from our Publications page.
Designing and Building a Rainwater Harvesting System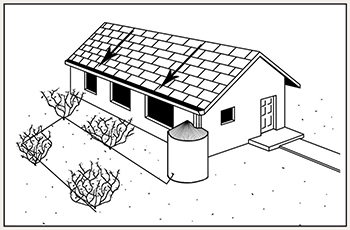 If you desire a rainwater harvesting system that will meet all your landscape watering needs, there are several steps to follow.
Analyze your site to calculate your water supply and demand. 
Design a system that will meet your needs.
Construct your rainwater harvesting system.
Test your system. 
Always contact your local water utility before installing any system to ensure you comply with local requirements.
 
Download our free, comprehensive guide, Rainwater Harvesting (12.7MB PDF), or order a free copy from our Publications page to learn more about planning a complex rainwater harvesting system.
Maintaining Your Rainwater Harvesting System
It's important to know that all rainwater systems require ongoing maintenance.
Check your gutters, downspouts, and screens.
Clear away leaves, sticks, and other debris.
Flush anything that has accumulated at the bottom of your storage container.
Check your storage container for leaks and repair as needed.
 Examine mosquito netting and replace any that is damaged. You may also use non-toxic "mosquito dunks" to control pests.
Inspect your water catchment before the rainy season and after each rainfall.
Paying for Your Rainwater Harvesting System 
There are financial perks for purchasing and installing rainwater harvesting equipment. Before you buy, check with your local government or water utility to find out if there are incentives such as rebates, discounts, and tax exemptions available that can lower your costs. Some cities and counties offer rebates on rainwater harvesting systems or provide discounts on rain barrels. 
 
The Texas Legislature allows the exemption of part or all of the assessed value of the property on which approved water conservation initiatives, such as rainwater harvesting, are made (Texas Tax Code §11.32). Individuals planning to install rainwater harvesting systems should check with their respective county appraisal districts for guidance on exemption from county property taxes. 
 
In addition to local incentives, the Texas Tax Code 151.355 exempts rainwater harvesting equipment from sales tax. You will need Texas form 01-339 to complete this process. 
 
Below we have compiled rebates, discounts, and guidance from cities in Texas. If you don't see your city listed, check with your local government or water provider to find out if they offer any incentives. 
Austin
College Station
Frisco
Georgetown
Hays County
Horseshoe Bay
Houston
Kerr County—Upper Guadalupe River Authority 
Lower Colorado River Authority—includes many central Texas areas 
New Braunfels
Post Oak Savannah
Sunset Valley
Round Rock
San Antonio Water System
San Antonio River Authority
San Marcos
Did we miss your local rainwater incentive program? Let us know so we can add it!
Statewide Support for Rainwater Harvesting
Texas has several laws supporting rainwater harvesting. Texas Property Code prevents a homeowner's association from prohibiting the use of rainwater harvesting systems (Texas Property Code §202.007). The state also requires certain new state facilities to incorporate rainwater harvesting systems in their design (Texas Government Code §447.004(c)(8)). 
Municipalities and counties are also encouraged to promote rainwater harvesting at residential, commercial, industrial, and educational facilities through incentives such as discounts for rain barrels or rebates for water storage facilities (Texas Local Government Code §580.004).
Additionally, a municipality or county cannot deny a building permit solely because the facility will implement rainwater harvesting; however, it may require that the system comply with the minimum state standards established for such systems (Texas Local Government Code §580.004). 
 
Check out our Yard Care page for helpful tips for environmentally friendly yard care.