News You Can Use
Take Care of Texas News You Can Use is a monthly e-newsletter with helpful information to keep our air and water clean, conserve energy and water, and reduce waste.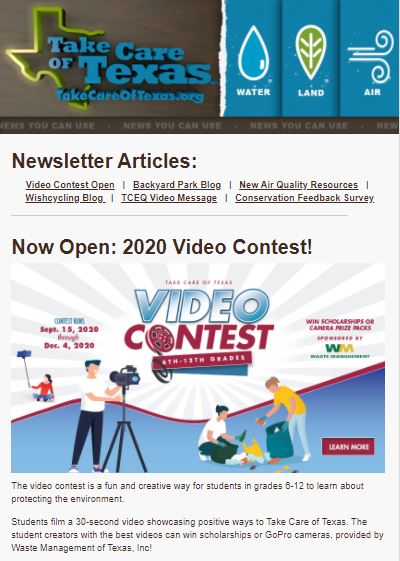 Several of the documents provided are in Portable Document Format (PDF). (Help with PDF.)
---
See other Newsletters:
August 2020
Prepare for Hurricanes and a New School Year
July 2020
The Song that's Stuck in Our Heads
June 2020
Beat the Heat with these Summer Tips
May 2020
Celebrate Texas Conservation during COVID-19
April 2020
Take Care of Texas during COVID-19
March 2020
Prepping Your Yard & PSA Video Contest Winners
February 2020
Less Litter, More Love this Valentine's Day
January 2020
Happy New Year! Have you heard the news?
2019
December 2019
Tis' the Season for Recycling & Wise Waste Management
November 2019
Holiday cooking, Scouts, Electronic Recycling
October 2019
Green Halloween Tips, Native Plant Week, Winter Irrigation Prep
September 2019
Burn Bans, Video Contest begins
August 2019
For a Chance to Win, Pledge to Take Care of Texas
July 2019
Green Lawns: Better Ways to Get Yours
June 2019
Keep Pesky Mosquitoes out of Your Rain Barrel
May 2019
Share Your Opinion for a Chance to Win
April 2019
One Insanely Easy Way to Save Water
March 2019
Is it Illegal to Pick Bluebonnets?
February 2019
Pizza Boxes and Other Recycling Mysteries
January 2019
One of the Fastest Ways to Cut Your Energy Bills
2018
2017
2016
2015
2014
2013