What You Should Know About Texas Wind Power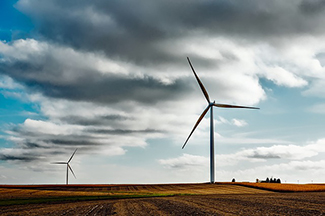 Wind power in Texas is kind of a big deal. According to ERCOT, in July of this year, wind power surpassed coal as the top power source in Texas for the first time in history.  Wind generated 22% of the states power needs, just barely beating coal's 21% contribution. Wind power in Texas is now a major energy source that's providing emission free power for Texans who want to reduce their carbon footprint.
Wind Jobs and Economy
With an annual economic impact of about $20 billion on the U.S. economy, wind power is a fast-growing industry. In the U.S., the wind sector employed more than 100,000 workers in 2016 and could potentially support more than 600,000 jobs in manufacturing, installation, maintenance, and supporting services by 2050.
Wind turbines can be built on existing farms and ranches. This benefits the economy in rural areas, where most wind sites are constructed. Farmers and ranchers can continue to work their land because the wind turbines take up very little space on the ground. The turbine owners pay rent to the farmer or rancher for the use of the land, providing them with additional income.
Clean Fuel Source 
Wind energy reduces air emissions and preserves water resources.  In 2013 wind turbines avoided the emission of over 250,000 metric tons of air pollutants, which include sulfur dioxide, nitric oxide, nitrogen dioxide, and particulate matter. By 2050, wind energy could avoid the emission of 12.3 gigatons of greenhouse gases and save 260 billion gallons of water—the equivalent to roughly 400,000 Olympic-size swimming pools—that would have been used by the traditional electric power sector. 
Home-Grown and Sustainable Supply
Wind is a domestic source of energy. It doesn't need to be imported from other nations or across state lines, and our wind supply is abundant and inexhaustible. Over the past 10 years, cumulative wind power capacity in the U.S. increased by an average of 30% each year, making it our nation's largest renewable source.
Winds are caused by the sun heating the atmosphere, the Earth's rotation, and the surface irregularities of the planet. As long as the sun shines the wind will blow and the energy produced can be sent across the grid to power our homes and businesses.
Power to Choose
If you live in a deregulated area of Texas, like the Dallas or Houston areas for example, you can choose where you buy your electricity.  This means you can choose your power provider rather than having one power company, usually a municipality, that provides your electricity.  There are companies that specialize in selling renewable power that you can choose for your personal power provider. However, even some municipal providers sell products that range from 100% wind to mixes consisting of wind and other sources. Go to Powertochoose.org to learn more.
Small Wind Electric Systems
If you have enough wind in your area and the situation is right, small wind electric systems are one of the most cost-effective home-based renewable energy systems with zero emissions and pollution. A small wind electric system can lower your electricity bills by 50%–90% and help you avoid the high costs of having power lines connected to a remote location. If you're interested in learning more, read about planning a small wind electric system.