Twice the fright! Reuse Halloween costumes for annual Video Contest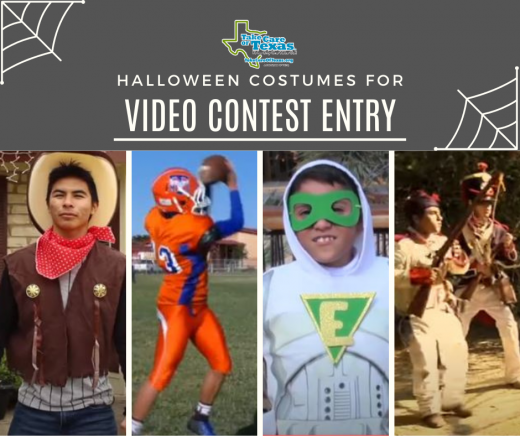 Know any 6-12th graders who are dressing up for Halloween? Encourage them to resurrect their Halloween costumes for a second use: the annual Take Care of Texas Video Contest! Students are encouraged to film a 30-second public service announcement demonstrating positive ways to Take Care of Texas. Middle school students have a shot at new camera gear, and high school students can win scholarships.
In previous contests, students' videos have starred vaqueros, superheroes, athletes and more to creatively emphasize the importance of conserving water and keeping it clean, keeping the air clean, and reducing waste. See some of the clever characters of video contests past below.
Remember, though, you may want to steer clear of trademarked costumes to avoid disqualification. You can find more on that in the official contest rules.
All video submissions are due Dec. 4, 2020 by 11:59 p.m. Happy Halloween and happy filming!
---
Vaquero "Cattle Driver" Costume
Credit: Alondra Paez, 7th Grade, Trautmann Middle School, Laredo – 2020
Superhero "E-Boy" Costume
Credit: Dominique Barraza, 12th Grade, Pebble Hills High School, El Paso – 2019
Football Players, Cheerleaders, and a Referee Uniform
Credit: Talitha Zuniga, 7th Grade, Trautmann Middle School, Laredo – 2019
"Just a Cowboy Hat" Country Singing Star
Credit: Shelby Doroshow, 12th Grade, Royse City High School, Royse City - 2018
Texas Revolution Solider Uniforms
Credit: Oziel Gonzalez, 7th Grade, Trautmann Middle School, Laredo – 2018
Conservation Cowboy Costume
Credit: David Garza, 12th Grade, Robert E. Lee High School, San Antonio – 2017