Travel for Work the Green Way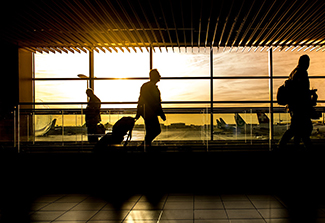 The pace of business keeps us all moving, sometimes overnight and over long distances. All that time on the road or in the air doesn't mean you have to compromise your commitment to Take Care of Texas, though.
Read on to discover ways that you can easily lessen your trip's impact on the environment.
Pack Light
Carefully assess the weight of any extra cargo your carry in your car, as an extra 100 pounds in a car can reduce the fuel economy by one percent. The effect of extra weight is even greater on smaller vehicles.
Likewise, an airplane's fuel efficiency depends partly on the weight of its payload. While your extra few pounds of luggage make a small contribution, the cumulative effect of dozens of passengers' heavy luggage weighs the plane down. Flying with minimal baggage is also a great way to lighten the stress load from your trip by reducing opportunities for lost baggage.
Prepare Your Home
If you are leaving your home unoccupied while you're away, save energy by turning down the AC and/or heat, turning off the water heater, and turning off all lights, idle appliances, and electronic items. Double-check for open windows and dripping faucets as well.
Getting There by Road
While driving an individual car may seem like the most convenient way to road trip, mass transit options are available across the country and are generally better for the environment . Bus routes and trains connect most major cities. They may take a little longer than driving, but you can use that time to kick back and read a book, catch up on sleep, or get work done while someone else does the driving.
Some trips are best taken by individual car, especially if you must make multiple stops or are traveling to a sparsely populated area. Traveling by car with minimal environmental impact is simple:
Carpool with a group of co-workers or with others who are attending the same event. If you plan to attend an event alone, reach out to other attendees from your region for carpool pals.
Use the most fuel-efficient vehicle you can for the trip. If your vehicle is old and fuel inefficient, take advantage of TCEQ's Vehicle Replacement Assistance Program. If you're renting, choose a vehicle that will minimize emissions.
Check your vehicle for needed maintenance, as a well-tuned engine can drive more efficiently than one in need of repair.
Maximize fuel efficiency by airing up your tires and replacing air filters if they are choked up.
Avoid idling, which takes a toll on your fuel efficiency. Park the car and go inside if there's a line at the drive-thru window.
Conservative driving habits will save you some fuel expenses and emissions. Erratic starts and stops use more fuel than steady driving, and every 5 miles per hour you drive over 50 is like paying an extra $0.16 per gallon of gas.
Traveling by Air
Whenever possible, choose the most direct flight possible. Direct flights may cost a little more, but are a better choice as they use less fuel—especially in takeoffs and landings —as well as your time spent in a cramped plane cabin.
Getting Around Town
Consider how close your lodging is to your business destination. A hotel that is further away might be cheaper, but could cost you in drive time and parking fees.  Walk, ride a bus, or hotel shuttle to your destination to reduce your driving. Rent a bicycle or dockless scooter for longer trips across town, which are often cheaper and more convenient than a taxi.
Minimize Food Waste
Bottled water typically costs over 2,000 times more than tap water. By carrying a refillable water bottle, you can stay hydrated at a lower cost while also minimizing plastic waste. Bring your own reusable containers of snacks, and carry a compact, reusable grocery bag, utensils, and a "to-go box" for dining to eliminate waste on the road.
Minimize Hotel Waste
Your choice of hotel and how you stay there can have a big environmental impact.
Consider the environmental commitment of the hotel company. Look for hotels that use eco-friendly laundry practices, use renewable energy sources, and maintain sustainable building designs such as those with LEED certification.
 Ask your hotel front desk how to signal to housekeeping not to launder your towels and linens. Reusing towels and sheets, rather than washing them every day, will save water and energy.
Just like in your home, save energy by scaling back on heating and cooling in your room when you're not there.
Housekeeping may trash any leftover single-use toiletries you leave behind, creating unnecessary waste. Bring your own travel-sized packages of soap, shampoo, and the like.
Conserve water by taking shorter showers and using the tap only as long as needed to wash up and brush your teeth.