Texas Environmental Excellence Award Winners Honored with Video Series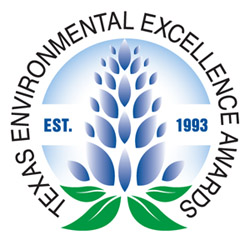 Each year, the Texas Commission on Environmental Quality, partnered with the Governor's Office, recognizes the efforts of Texans who are doing their part to preserve and protect the environment with the Texas Environmental Excellence Awards. The winners are nominated by members of their respective communities and vetted through a rigorous selection process at TCEQ. The celebration comes a year late, as the awards ceremony was cancelled amidst the pandemic. We present the winners in this video series, which you can view or share with this complete playlist on YouTube.
Individual winner: Benjamin A. Rawald
Benjamin Rawald inspired his community to plant over 150,000 milkweed seeds to help the environmentally vital Monarch Butterfly population.
---
Educator of the Year (co-winner): Andrew Brinker
AP Biology teacher Andrew Brinker inspires his students to act locally for the environment, and to pursue a future in environmental science.
---
Educator of the Year (co-winner): Corina Fuentes Garza
Corina Fuentes Garza inspires here AP Environmental Science course—a course she created—to become environmental stewards through the study of ecosystems.
---
Innovative Operations Management: City of Frisco
The City of Frisco is leading the way with their innovative recycling program, helping residents responsibly dispose of hard-to-recycle items like household hazardous waste, electronics, and Styrofoam.
---
Civic/ Community: Keep Texas Recycling
Keep Texas Recycling has helped rural Texas access recycling education and services for over 25 years.
---
Water Conservation: New Braunfels Utilities
An innovative outreach campaign has helped the New Braunfels Utilities save hundreds of thousands of dollars and millions of gallons of water.
---
Education: Austin College — Sneed Prairie Restoration
Over 11,000 students have benefited from a visit to the restored Blackland Prairie at Austin College' Sneed Prairie Restoration site, a 100-acre living ecology laboratory.
---
Pollution Prevention: University of Texas at Arlington
The Texas Manufacturing Assistance Center has companies state-wide to save energy, conserve water, and redirect waste, saving Texas businesses save millions of dollars in the process.
---
YOUTH: KEEP BROWNSVILLE BEAUTIFUL
The Keep Brownsville Beautiful Youth Advisory Board helped coordinate 29 beautification projects.