Texas Communities Tackle Illegal Dumping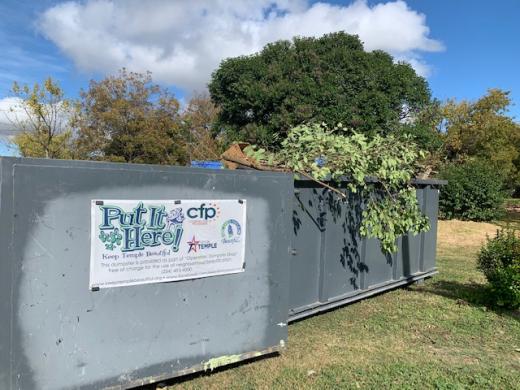 Have you ever encountered a used couch mysteriously discarded in a field, or had to roll away an old car tire that has become a mosquito haven? These are examples of illegal dumping, and Texans are uniting in the fight against such activities wherever we find it.
The Texas Commission on Environmental Quality defines illegal dumping as the disposal, transportation for disposal, or allowance of disposal of litter or solid waste any place other than a landfill or other approved waste site. The most common types of illegal dumping involve items that are difficult to dispose of, such as tires, landscape waste, construction debris, appliances, furniture, household garbage, chemicals, batteries, and fluorescent lights. Violations range from tossing litter out of a car window to disposing of old cars on private or public property, dumping oil or other chemicals down storm drains, and abandoning furniture in any unauthorized place.
The 2019 Regional Solid Waste Grants Program Report states that programs across the state have had a positive impact on dumped waste, including:
investigations and solid waste law enforcement at 5,421 illegal dump sites,
fines collected totaling $308,000, and
3.4 million pounds of waste removed from illegal dump sites.
Texas Success Stories
TCEQ worked with stakeholders at a problematic tire disposal site to remove 1.4 million tires and recycle 24.6 tons of steel belt material after Hurricane Harvey turned it into a prolific mosquito breeding site.
Heart of Texas Council of Governments granted all six counties utility trailers to clean up dump sites. Falls County employees returned these sites to a natural, usable state. They collected thousands of pounds waste and salvaged recyclables to support clean-up.
Chambers County officers investigated 80 criminal illegal dumping cases and found 42 violators. They removed 302,161 pounds of trash. Much of it was scrap tires, including more than 7,000 tires dumped in Turtle Bayou. The tires were recycled to be used for playgrounds and football fields.
Keep Temple Beautiful started Operation Dumpster Drop in 2020. Amid a pandemic, they deposited dumpsters in 7 locations that served 18 neighborhoods, collecting 344 tires and 28,260 pounds of trash as of January 2021.
The Ector County Environmental Enforcement Office investigated 105 illegal dump sites, identified 105 violators, and removed 443,720 pounds of waste in 2017.
The City of Pharr's public works department has a unique scrap tire tracking program in which city employees mark scrap tires with unique tags that identify the residence or business where the tires originated. The Golden Crescent Regional Planning Commission maintains its tire recycling campaign. Regional partners used a grant to collect and dispose of more than 52 tons of tires.
The Panhandle Environmental Partnership covers just under 26,000 square miles with members from all over the Texas Panhandle. Members work to recycle the materials that best suit the needs of their residents.
Cleanup efforts and solid waste disposal programs by the City of San Elizario and local partners have collected 55,000 tires in El Paso County through their Tire Amnesty Days and other efforts. 
The City of Nacogdoches and Keep Nacogdoches Beautiful reduced illegal dump sites by 29 percent with No Dumping signs.
How to Dispose of Tricky Items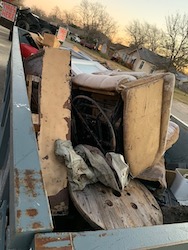 If you have an item that can't easily be recycled or thrown in the trash, consider the following: 
Contact your local waste management program for advice on managing and disposing of these items.
For items that qualify as household hazardous waste, check the TCEQ HHW programs list for details.
TCEQ maintains a map of municipal solid waste landfills to help you find a safe, legal place to dispose of other challenging items.
How to Report an Environmental Violation
TCEQ is available 24 hours a day to receive complaints under our authority. Texans can use our online complaint form, or call toll-free at 888-777-3186 to make an environmental complaint. TCEQ investigates every complaint it receives! For more information, read about our enforcement process. 
In most cases, you can contact your city or county government for assistance or check with resources through your regional Council of Government.