Texans Don't Litter, Do They?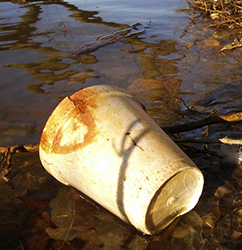 What Is Litter?
Litter is simply trash that is not disposed of in a trash can. It includes the obvious culprits such as plastic bags, cans, fast food wrappers, etc. You may be surprised about certain items that are considered litter. For example, food waste and other organic matter is litter—just because it's biodegradable doesn't mean it can be thrown on the ground. There are also sneaky offenders that are all considered litter, such as cigarette butts, small candy wrappers, or even trash that flies out of a car window or truck bed.
What Are the Penalties for Littering?
Littering is against the law and there are hefty fines for violations. For trash less than or equal to five pounds or five gallons, fines can be up to $500. Repeat offenses are even costlier, resulting in up to $2,000 in fines and 180 days in jail. Additionally, failing to cover your pickup truck load carries a fine of up to $200 for the first offense, and $500 for repeat offenses. Trash of more than five pounds is considered illegal dumping, which carries even steeper fines.
Do Texans Litter?
Since 1998, Don't mess with Texas has been reporting on Texans' attitudes and behavior towards littering, and the agency recently released the results of their newest survey.
Below are a few important statistics that will help you learn more about littering in our state.
Of those who participated in the Attitudes and Behaviors Study, half said they had littered in the past month, with the top items being food or organic materials and small pieces of paper such as gum wrappers.
In the group that littered, 61 percent said it happened accidentally.
Survey respondents thought that plastic bags and other types of plastic were the most serious forms of litter, and food and organic matter were the least.
35 percent of those who took the survey said that trash had fallen out of a pick-up truck they were driving or riding in within the last year.38 percent of respondents said that they or someone in their vehicle threw a cigarette butt out the window.
16- to 24-year-olds littered the most frequently. As people grow out of their teenage years and into adulthood, they are less likely to litter.
Survey respondents said that parents/guardians have the most influence in teaching children not to litter.
How Can Texans Do Their Part?
Visible litter is down by 34 percent on roads maintained by the TxDOT. This success is happening despite an increase  in drivers on Texas roads. However, about 435 million pieces of visible litter still accumulate on Texas roadways each year—so there is still more work to do.
Learn how you can keep our Lone Star State beautiful.
First and foremost: Don't litter. Do be aware of what litter is.
Use the TxDOT website or the Don't mess with Texas Report a Litterer app  if you see litter thrown from or flying out of a vehicle, even if it is unintentional. The agency will send the vehicle owner a litterbag for their car and a note reminding them not to litter.
Set a goal for yourself to pick up a piece of trash every time you go on a walk. If every person in Texas picked up just two pieces of trash every month, our highways would be completely litter-free in just one year.
Teach your kids how important it is to dispose of trash correctly.
Stop litter before it starts by reducing your waste. For example, get reusable containers for water instead of buying it in bottles, and take reusable grocery bags to the store.
Contact your city government if you notice litter in your community or on city streets.
Join 3,800 other groups in the Adopt-a-Highway program and claim a stretch of highway to keep litter-free.
Participate in the Trash-Off event. It's a fun way to get to know people in your community and make a difference.
You might also like: Reducing Roadside Litter