TCOT Backyard Projects: Compost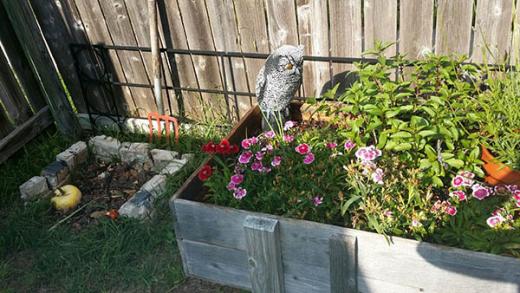 If you're like me, spending more time at home to slow the spread of COVID-19 has likely left you with some free time on your hands.
In addition to restarting my herb and vegetable gardens after taking a few years off, I finally started my first compost pile. I've wanted to compost for years, but I never felt like I had the time. Now that I've been given the time, I realize I no longer have an excuse. And so now I have my own budding compost pile.
Starting my own compost pile taught me a few lessons. I learned these lessons the hard way, and now I'd like to share them with you, so you don't recreate my boneheaded mistakes.
Composting Dos
Just start one already. It may seem obvious, but simply starting a compost pile is the hardest part. Get over the mental hurdle and start composting.
Keep it simple. It just has to be a pile. You don't need a fancy container if you don't want one. I used a few leftover bricks to keep my pile contained and I probably didn't even need those.
Be diligent. Save all the scraps you can and start piling them up. I was really surprised by how quickly it filled up. It was soon obvious how much space I'd be saving in our landfills. The prospect of feeding my lawn and garden in the future looks promising.
Add in some brown— leaves, dried grass, and straw—with your scraps.
Composting Don'ts
Don't start your compost pile too close to where you will spend time, near your garden or your

sitting area for example. I started my compost pile right next to my flower and herb garden. So now when I want to pick herbs and enjoy smelling my flowers, I also have to smell decaying fruit and rancid vegetable peelings. It's not a pleasant odor. Start your compost pile in a part of your lawn that you don't visit often. Or you could just add leaves, grass or straw to the pile to help eliminate foul odors. For remedies on how to resolve common compost problems, visit our previous blog entry.
 
Leave space for your compost pile to grow. I didn't realize how quickly mine would fill up. So not only is my compost pile too close to where I hang out, it's too small. Now if I want to move it to a place where there is more space, it will be a big mess. Plan carefully the layout and location of your compost pile.
 
Don't forget to add some "brown" to your compost pile. I should've added in more leaves and lawn debris to my pile to create a better balance. Your compost pile needs the carbon in "browns" as well as the nitrogen in "greens."
Now it's your turn to share what you've done. We'd like to see pictures of the gardens and compost piles you've made! Send in your pictures and short stories about your garden and compost pile to educate@tceq.texas.gov or go to our Share Your Story page and upload your information there. We'd love to feature it on this blog and inspire others to do the same.  If you need some help starting you own compost pile, check out our YouTube video.