STEM Day Spotlight: Ramiro Garcia, Jr.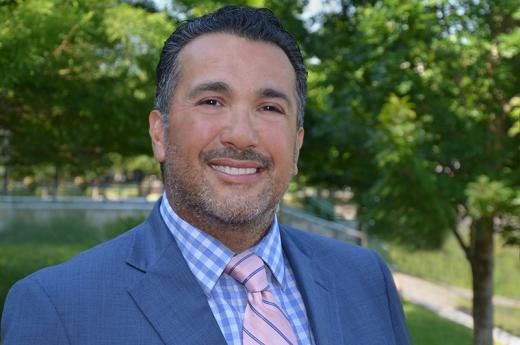 To celebrate National Science, Technology, Engineering, and Math (STEM) Day on November 8, Take Care of Texas is highlighting the career of two Texas Commission on Environmental Quality staff members who have made outstanding contributions to environmental quality: Ramiro Garcia, Jr. and L'Oreal Stepney.
---
Anyone who encounters Ramiro Garcia will sense that he is gregarious, generous, and exemplifies leadership and servitude. It's likely the combination of these traits that landed him an internship slot in the 1993 Mickey Leland program at the Texas Commission on Environmental Quality (then the Texas Natural Resource Conservation Commission) and then helped him advance through several positions at the agency over the following 26 years.
Education & Early Career
A Harlingen native, Garcia attended St. Edward's University in Austin, where he earned a Bachelor of Science degree in Biology. Following his internship in 1993, Garcia was hired to work full-time in the Petroleum Storage Tank Division. Since then, he has been an investigator, team lead, section manager, area director, and deputy director. He's now the agency's deputy executive director, serving alongside L'Oreal Stepney.
Garcia calls his current position at TCEQ a role "beyond my wildest dreams." His parents and teachers instilled in him a fierce sense of loyalty, passion for serving others, and the value of hard work. He said his quarter-century at TCEQ has been "a wonderful journey, but not an easy one."
Loyalty
Garcia said his coworkers recognize his passion and loyalty to the team, and that he sees the same in them, especially when stressors are high. "There are difficulties like testifying at the Legislature, or a decision that you made is questioned and scrutinized," Garcia said. The sense of family felt among his team and the entire agency is what makes the tough times a little easier, Garcia said. "It has always meant a lot to me that my colleagues will pick up the phone and say, 'Hey man, just thinking about you. I know this is tough. I'm here for you. I support you.' I try to pay that forward."
Service
Garcia takes great pride in his Rio Grande Valley roots. "I love being from this state," Garcia said. "I've been blessed to have the opportunity to travel to other countries and other states and I'm always happy to come home to Texas. Something about it just it just feels right for me. And doing this job and serving our fellow Texans really is the part that's invaluable."
All of Garcia's work has a single purpose: "Serving our citizens to make this a better place," he said. Garcia looks to his son for inspiration to work harder. "Thinking about his future, that's about leaving Texas in a better shape for future generations, ensuring that we have a wonderful legacy."
Hard Work
Garcia acknowledges that his job often requires much of his time, making a work-life balance difficult. Emergency responses and rulemaking teamwork can be tough—mentally and physically. "You look to your side and you see your friends and colleagues working just as hard right next to you. They're the motivation. We count on each other to get the job done."
Garcia learned an appreciation of hard work from his father, an Army veteran, who taught him that "there is no job that is too big or too small." He recalls his father performing menial tasks like sweeping and taking on driving routes at his job, despite his status as general manager of the company. "I have high expectations for myself because I want my son to be proud of me the way I was proud of my dad," he said.
Garcia is wired to be a people-pleaser, but part of his job is to make tough calls that don't make everyone happy. "It was hard for me, especially in positions of management, that I couldn't always please everybody. It took me a while to get over that," he said.
Advice
Garcia recalled the times that he had to learn something new, and the people who helped him get over the hurdles he encountered. "Always be kind to folks who are just starting out. There were so many stops in my career when people took the time to invest in me. I find myself trying to pay that forward to others." He thanks teachers like Mr. Barrett and Mrs. Powell, who nurtured his interest in science at an early age, along with countless fellow students and coworkers who were willing to help him learn new things.
STEM education and scientists are critical to our future, Garcia said. "Not everything is answered. That's the beauty of science! We always need fresh minds with different perspectives on how to approach a problem."
Garcia encourages students of all ages to get serious about science. "If you're remotely interested in a science education or career, talk to your counselor. Talk to your teachers. Let them know you're interested. For those pursuing STEM in college, stick with it. It's rewarding down the road to have that knowledge and be able to contribute as a scientist."