STEM Day Spotlight: L'Oreal Stepney
To celebrate National Science, Technology, Engineering, and Math (STEM) Day, Take Care of Texas is highlighting the career of two Texas Commission on Environmental Quality staff members who have made outstanding contributions to environmental quality: Ramiro Garcia, Jr. and L'Oreal Stepney.
---
L'Oreal Stepney describes herself as curious, and noted that her curiosity has remained her primary motivation throughout her time with the Texas Commission on Environmental Quality, pushing her to learn more about the structures and policies that make the agency tick.
It was this curiosity that initially led her to study aerospace engineering at the University of Texas, and then to pursue a master's degree in environmental engineering. It also led her to work for TCEQ, where she has served in three divisions over the course of 28 years. As the leading expert on water rights in the State of Texas, Stepney takes this curiosity with her as she begins her newest role as the Deputy Executive Director of the agency.
Family
Stepney described herself as a student who was always interested in math and science while growing up in south Dallas. She has two sisters, one older and one younger, and joked that she has "middle child syndrome." Her parents always emphasized the importance of education to their three daughters, and Stepney recalled her father constantly teaching his daughters how to analyze and think critically about the world around them. "I remember sitting on the porch playing dominoes with my dad," she said. "While my sisters and I just thought we were playing a game, he was really teaching us about math, strategy, recognizing patterns, and critical thinking."
Education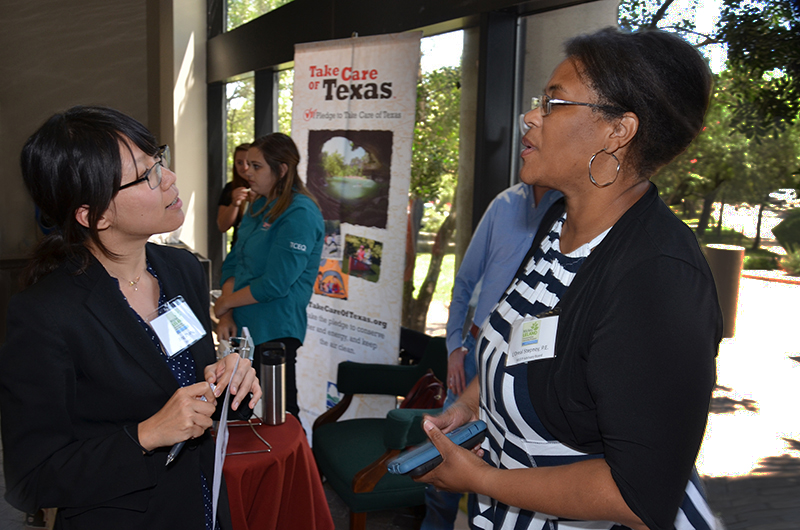 "Like a lot of students, I really didn't know what I wanted to do for college when I was a senior in high school," Stepney recalled. She had always excelled in math and science but was not sure how to apply that to her career. She remembers a career fair during her senior year where she saw a representative from the University of Texas who talked to her about their engineering programs. Stepney decided that she was interested in engineering but needed to select an area of engineering to study.
When asked about why she chose aerospace engineering, she laughed, "It's kind of embarrassing, but Top Gun had just come out the year before and I thought it would be so cool to work on jets. Also, I've always been a bit of a space geek." Stepney remembers her time at UT fondly and is thankful for how it broadened her horizons.
TCEQ
After completing her degree at UT, Stepney began her career at TCEQ in 1992 as an air permit writer. This job introduced Stepney to the policy side of environmental work, and she became increasingly interested in the problem-solving and patterns associated with policy. "I've always been interested in a challenge," Stepney noted.
She recalls the transition into a management job as difficult at first. "I certainly had to work on my soft skills, and on those leadership, management, and patience skills—I still am working on that one," Stepney laughed. "It was tough, but every time I moved up it was tough. Every new position is a new job you have to learn. You don't come into it being successful. You were successful, but now you have to learn your new job."
She steadily rose through the ranks in the Office of Air until she was offered a position in the Office of Water. Stepney remembers that job change as the most impactful challenge she faced. "That was a significant move for me," she recalled, "a huge leap of faith. I knew nothing about the Office of Water, nothing. It really changed the course of my career at the agency."  
Stepney noted, "I read a lot. I kind of immersed myself in the processes, too. I tried to learn about why things are the way they are and how things are done." She also said she had an exceptional team that helped her during the transition.
Advice
Unsurprisingly given her success, Stepney's advice for young professionals in STEM reflects how she describes herself: be curious. "Be responsive and ask as many questions as possible. Take notes and study as much as possible so that you become the expert in the STEM field you pursue. That is the best advice that anyone gave me. The time to ask questions is when you are brand new. When you're a year or two down the road, people expect you to be more knowledgeable and so this is the time to ask."