Stay-At-Home Environmental Project Contest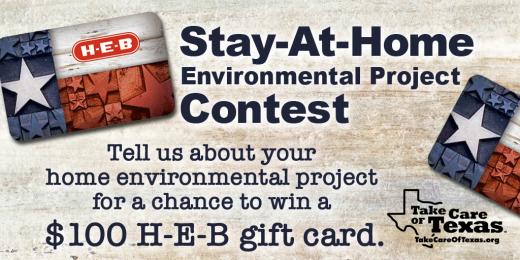 If you've spent more time at home during stay-at-home orders to slow the spread of the coronavirus, you've probably had time to closely inspect your property. Perhaps you've even taken on a home project or two. And maybe, just maybe, you've spearheaded an environmental project.
Perhaps, like one of our staff members, you've started your own compost pile and diverted waste from going into a landfill. Maybe you've replaced the leaky flush valve in your toilet saving hundreds of gallons of water a day. It's possible you were ambitious enough to create your own rain barrel, preventing flooding and erosion around your home.
Whatever kind of environmental project you've taken on, we'd love for you to tell us what you've done. In fact, we're giving away two $100 H-E-B gift cards to the two readers who have created the best stay-at-home environmental projects.
Follow us on Facebook and leave a detailed comment and picture under our contest post telling us about your environmental project. We're looking forward to seeing what you've created.
Please see our contest rules here.