Special Focus for Water Quality Month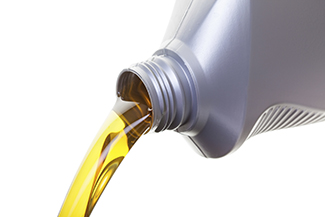 Are you one of the many "do-it-yourselfers" who change their own oil at home? Or have you considered trying to change your own oil? There's a sense of satisfaction in knowing how to take care of your own car or truck. And when you're finished working under the hood, it's important to Take Care of Texas by handling and disposing of your used oil and oil filters properly.
The used oil from one oil change can contaminate one million gallons of fresh water—a year's supply for 50 people. Since August is Water Quality Month, it's a great time to raise awareness about the importance of clean water and how we can do our part to keep it that way. Keep reading to learn how to DIY the green way.
How Can Oil Be a Problem?
Used oil is slow to degrade, will persist if released into the environment, and sticks to everything from sand to feathers. Also, it can contain toxic chemicals and heavy metals. Lastly, oil can be a source of contamination of waterways and drinking water sources. Used oil must be managed properly to prevent pollution. Texas law prohibits dumping used oil on land or into sewers or waterways. It is also illegal to use it as a dust suppressant. Additionally, Texas has banned used oil filters from being placed in or accepted for disposal in a landfill.
Recycling Used Oil
Recycling is the most environmentally friendly way to dispose of used oil. Motor oil does not wear out—it just gets dirty—so recycling it saves a valuable resource. Used oil filters are also a concern and can be recycled once the oil is drained from them. They contain scrap metal, which can be used by steel producers.
How is Recycled Oil Used?
Used oil can be re-refined into new oil, processed into fuel oils, and used as raw materials for the petroleum industry. One gallon of used motor oil provides the same 2.5 quarts of lubricating oil as 42 gallons of crude oil!
Re-refined oil must meet the same stringent standards as virgin oil for use in automotive, heavy-duty diesel, and other internal combustion engines, and hydraulic fluids and gear oils. It is equivalent to, and in some cases outperforms, virgin oil.
You Can Help by Recycling or Properly Disposing of Your Oil
Use the recycle search from Earth911 to find a recycling center near you.
Check with your local government. Some communities have collection centers for used oil and properly drained oil filters.
Many auto parts stores and repair shops accept used oil filters and oil in quantities under five gallons. Ask if they recycle their used oil.
Celebrate Water Quality Month by learning all the ways you can help keep our water clean!