Scary Good Green Halloween Tricks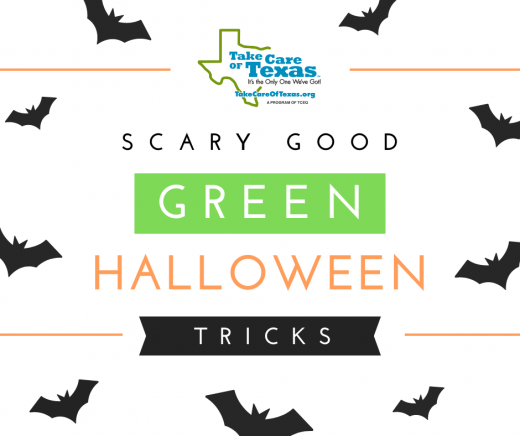 It's trick or treat season again! Just don't get tricked into adding more trash to the landfill graveyards. Instead, consider having an environmentally friendly Halloween.
Here are some simple tips to prevent trash and wasted energy, so you can treat yourself to a greener Halloween.
Tips for a Green Halloween
Energy Vampires — Some electronic devices still draw power when they're not turned on. Use power strips and turn off lights, fog machines, inflatables, stereos, and other electronic "energy vampires" when not in use. If you're not home on Halloween, turn off your house lights to save energy and signal to trick-or-treaters that they won't be stocking up on candy at your doorstep.
Treats not Trash — Distribute candy or treats with minimal or no packaging. Items like small school supplies, toys, coins, and other goodies will create less waste. Single-use plastic wrappers and packaging go straight into the landfill. Now that's scary!
Monster Mash Mixers — Host a party with minimal trash by serving food with minimal packaging, using durable cups, and reusable plates and silverware. Put out bins to collect compostable food and recyclables. If you choose to celebrate with others this Halloween, keep in mind social distancing, limited number of people (no more than 10), and other safety guidelines in your area.
Demonic DIY Décor — Use environmentally friendly decorating items. Instead of single-use plastic items, decorate with live autumn plants, or gourds. Get creative with materials you already have around. Recyclable materials for decoration can likely be disposed of in the recycling bin.
Resurrected Wardrobe — Make your costume out of repurposed materials. Use items from around the house or a thrift store. Swap last year's costume with a friend.
Zombie Walk — Walk or bike your trick-or-treating route instead of driving, resulting in fewer emissions from your vehicle.
Jack-o-Compost — Compost your jack-o-lanterns and floral displays rather than tossing them in the trash. The "guts" and seeds from your pumpkins can also be used to make different types of food!
Re-Boo-sable Bags — Kids can gather treats in reusable bags, buckets, or pillowcases without buying a single-use item. Not only can these reusable ideas be repurposed around the house, but kids can even decorate them for fun!
We hope you have a safe, responsible, and green Halloween! Share these tips with others and keep in mind social distancing when celebrating this year.