Reduce Waste While Cooking for the Holidays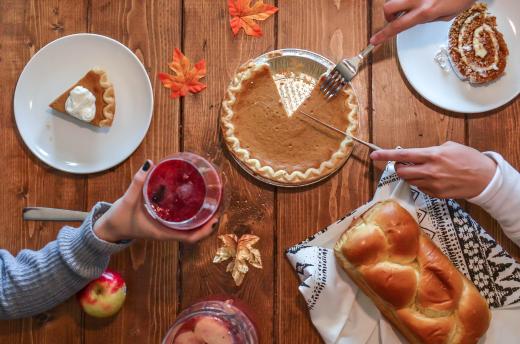 Nothing brings families together like cooking for the holidays! Whether you're steaming tamales, wrapping spring rolls, or frying a whole turkey, holiday cooking fills our hearts and bellies with something worth savoring.
With all that yummy goodness comes several opportunities to dispose of waste and use resources wisely. As you're preparing for holiday cooking, keep the following ideas in mind:
Buy local. Food produced close to where you live travels less to get to you, reducing emissions. Check out a local farmers market to buy directly from local farmers or check packaging in supermarkets for the region of origin.
Avoid excess packaging. The best way to reduce waste is at the source, so choose products that use less plastic, foam, and cardboard in presentation. Recycle or reuse packaging whenever possible.
Don't pour fats, oils, or grease down the drain! This includes frying oil, butter, and leftover grease. Pour larger amounts of leftover oils into a sealable container you can throw into the trash when full. Wipe greasy items with disposable towels and throw them in the trash.
Save leftovers. Rescue perfectly good food from the landfill by enjoying leftover ingredients as-is, or re-imagine them as a sandwich, soup stock, or stir-fry. Some even say that certain foods are better after being in the fridge for a day, but that's up to you.
Compost the scraps. Avoid putting items like potato peels, egg shells, corn cobs, and many more in landfills by starting a compost pile.
Have a green tip for holiday cooking to share? Let us know on our Share Your Story page!