Proud Partner Highlight: Village Plumbing
Village Plumbing and Air is a service provider in Houston that recently became a Proud Partner of the Take Care of Texas program, and contributed to our Share Your Story page. We caught up with Village's marketing manager Kelli Victorian to learn more about what drives the company to conserve water, keep our air and rivers clean, and reduce waste.
Q: Tell us a little about your company and its history.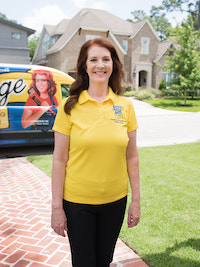 A: Village Plumbing & Air began as a residential plumbing company in 1946 serving the West University area of Houston. Now, still family owned, we have expanded our services to include residential Air Conditioning & Heating services. We currently service all of Houston and the surrounding areas. Monica Ryan, daughter of the founder, is not only our president and owner, but she is also a licensed master plumber—just one in a handful of female master plumbers in the state.
Q: How did you find the Proud Partner program? What made you want to sign up?
A: We came across an article on the internet about the Proud Partner program and it looked like something we could become involved with. Our team is always looking to help those in the community and treat the environment kindly. Proper sewage and drainage systems are a must when it comes to taking care of Texas!
Q: The goals of the Take Care of Texas program are to encourage Texans to conserve water, conserve energy, keep air clean, and keep water clean. How does your company support these goals?
A: At Village Plumbing and Air, we have a water filtration system in our building and encourage employees to drink this water instead of purchasing bottled water when they're at work. Our licensed plumbers are passionate about water conservation and cleanliness, encouraging customers and employees to look at whole home filtration systems as well. We offer free home water testing to any customer who inquires! Our HVAC technicians support clean air initiatives by offering UV lights and whole home allergen filters to residential customers. Offering energy saving high efficiency HVAC systems to conserve energy is another way we help conserve.
Q: What benefits does your company receive from the measures above?
A: Installing water filtration systems or more efficient HVAC systems benefits the community as a whole. Having the team talk about conservation in meetings brings everyone together and gives us a common goal to support and work toward.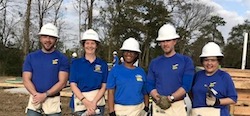 Q: What words of encouragement do you have for other companies and organizations who want to Take Care of Texas, too?
A: Join the initiative! Your employees will get on board, and if you make it a priority, it brings everyone together. Clean air and clean water are essential for our future, so everyone in our company is happy to support the program!
---
If your organization, business, or institution is not already a Proud Partner, fill out the Proud Partner Pledge form. You'll receive a starter package, including some exclusive Proud Partner decals, and your organization will be added to the list of current Proud Partners. The program is 100% free!
If you'd like to be considered for next quarter's Proud Partner highlight, leave a contribution on our Share Your Story page.