Pollution Prevention Project and Lesson Ideas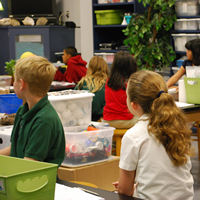 Learning by doing can be a very effective way to help classroom lessons resonate with students. Below we've compiled some fun and informative project ideas designed for students to get hands-on experience in pollution prevention. Some projects are meant to be done in school, and some can be done at home. Either way, these ideas should prompt students to start thinking and acting in ways that will reduce pollution before it's created. 
Appoint a Monthly "Electricity Monitor"
Kids love to be in charge of things. With that in mind, assign a different student each month to be the classroom electricity monitor. For the entire month, that student will be responsible for turning off any classroom lights and other electronic devices, such as lamps or audio-visual equipment, when not in use. Turning off lights and devices is an easy way for students to begin good habits that will save electricity and money. 
Construct a Compost Bin
Composting is a simple way to reduce landfill waste while also providing necessary growing materials for your school's landscaping, indoor plants, and vegetable gardens. You can compost yard trimmings, plant scraps, shredded newspaper, and certain food scraps. Check out our composting video and guide to learn how to get started. If your school has a garden club, consider partnering with them to use your compost. Check out our composting lesson plan for additional resources. 
Build a Rain Barrel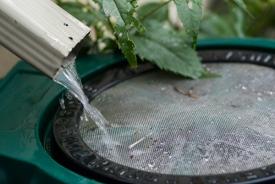 Teach your students about the importance of water conservation by building and installing a rain barrel at your school. Harvesting rainwater and reusing it to water landscaping and gardens is not only a great way to conserve water, but it also helps prevent runoff. For this project, use the Rainwater Harvesting with Rain Barrels guide. 
Detect Water Leaks Around the Home
This is a simple exercise that students can do at home, preferably when no one is in the house using water. Ask students to locate their water meter and take a reading. Wait at least two hours, make sure no one in the home is running water, then take another meter reading. If the two numbers vary, then there is probably a water leak somewhere.