Pick Up After Your Pup to Keep Our Water Clean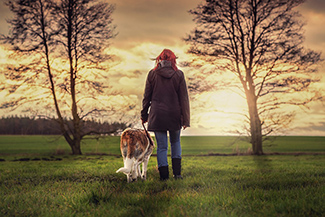 In celebration of National Pet Day—which is on April 11—we put together some information to help you and your furry friend keep our water clean.
Pet waste can affect water quality and animals' and people's health by carrying diseases into our bodies of water. The presence of too much bacteria can make it more hazardous to swim or wade in our lakes, creeks, rivers, or bays. The lack of oxygen during waste decomposition can threaten the health and lives of fish and other aquatic animals.
Always pick up your pet's waste whether on a walk or home in your backyard. Even if you're not near water, stormwater and runoff can carry pollutants into drainage ditches, lakes, rivers, wetlands, coastal waters, and underground sources of water. Try to walk in grassy areas, parks, and undeveloped land as opposed to near streams and other waterways.
Nonpoint Source Pollution
Pet waste is a form of nonpoint source pollution—when small amounts of contaminants from many different sources are carried by rainfall runoff into streams, lakes, or bays. Additionally, roadside storm drains and street gutters often lead to local rivers and streams, so anything that flows into them can make it to local waterways without any treatment.
Around Your Yard
Pet waste is not a good lawn fertilizer, nor should it be placed in your compost pile. Pet droppings (or soiled cat litter) can contain diseases and viruses that are harmful to humans, so the best place to dispose of is in the trash or in the toilet, where a local sewage treatment plant or your septic system treats the water. Alternatively, you can bury small quantities of pet waste in your yard where it can decompose slowly.
How to Help
You can spread the word by telling other pet owners how they can help protect our bodies of water. You can also contact your local government to help install bag dispensers, signs, and trash receptacles in parks and other public areas to remind others to clean up after their pets.
Tips for disposing of pet waste:
Be prepared by taking bags with you to collect your pet's waste. Deposit it in a trash can or remove from the bag and dump it in the toilet.
Many parks and recreational areas offer courtesy bags and disposal boxes designed for pet waste.
To bury pet waste, dig a hole six inches to one foot deep. You can do this in several different locations in your yard, but keep it away from gardens with edible plants.
Never throw pet waste into a storm drain or waterway.
More reading: