Our Commitment: We Are The TCEQ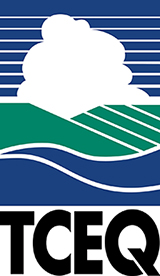 TCEQ is an agency of almost 2,800 employees in 16 offices across the state. We regulate air, water, and waste. Last year, TCEQ and its contractors conducted 103,525 investigations and assessed $7.5 million in penalties. 
• WATER: We are tasked with protecting surface water quality across the state. We permit wastewater and monitor over 7,000 public water systems. 
• AIR: Since 2000, we've reduced ozone by 30%. From 2005-2017, nitrogen oxides emissions have decreased by 45%, the equivalent of taking more than 86 million cars off Texas roads. 
• WASTE: In 2018, we completed 611 cleanups, including a cleanup of 1.2 million scrap tires. 
While these stats are impressive, our people tell our story. We are composed largely of professional employees trained in science, technology, engineering, computer science, and related fields. And, for the past two years, we've been named as one of the best mid-sized employers in the United States. No matter what part of Texas you call home, TCEQ employees are your neighbors and we are here to serve you. Not just in response to emergencies, but every single day, 24 hours a day, 365 days a year, and we won't stop.