Native Plant Week starts October 20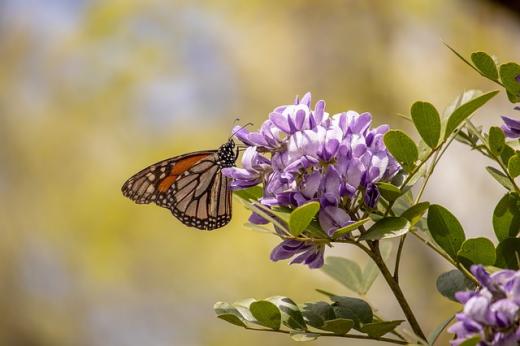 The third week in October is Texas Native Plant Week. This is a chance to learn about, appreciate, and cultivate native plants on your property. Native plants have many advantages to your budget and the immediate ecosystem.
A plant that is "a part of the balance of nature that has developed over hundreds or thousands of years in a particular region or ecosystem" is a native plant. This means that most of the plants that have been introduced to North America in the past three hundred years or so are not considered to be native. While many non-native plants can adapt or out-compete native plants, most native plants have been in their home environment for thousands of years and are best adapted to the climate and soil.
Native Plants Save Money
The number one benefit of native plants over other plants is that they save you money on your water bill and reduce strain on the local water supply. Plants that are adapted to your immediate area stand the best chance of thriving without constant watering and chemicals. This may be the difference between a lush yard and a bare one in the event of another Texas drought.
Native Plants Attract Wildlife
If you want colorful birds, graceful butterflies, and other helpful pollinators to visit your yard, attract them with the seeds and flowers of native plants. The Ladybird Johnson Wildflower Center has a helpful guide to inviting butterflies into your yard through use of native plants.
Native Plants are 100% Texan!
What better way to celebrate how much you love Texas than by encouraging the presence of the kind of plants that have called Texas "home" for thousands of years?
Resources for Native Plants
Texas is a large and ecologically diverse state, so start with the Native Plant Society of Texas' Texas Ecoregion map, built with data from the Texas Commission on Environmental Quality, the US Environmental Protection Agency, and the US Department of Agriculture. Use this hyper-detailed tool to learn about the ecological characteristics of your region and to better understand what plants are best suited for it.
Next, consult with the Earth-Kind Plant Selector from Texas A&M University to learn about the specific plants that grow naturally in your region, or get a list of plants that will suit your needs based on your input.
For horticultural fun this year, join the Native Plant Society of Texas Bioblitz. This is an opportunity to identify and document native plants where you live in the state for the iNaturalist database. Check out this site for details on the event or connect with your local Native Plant Society chapter to celebrate as a community.