National Mosquito Control Awareness Week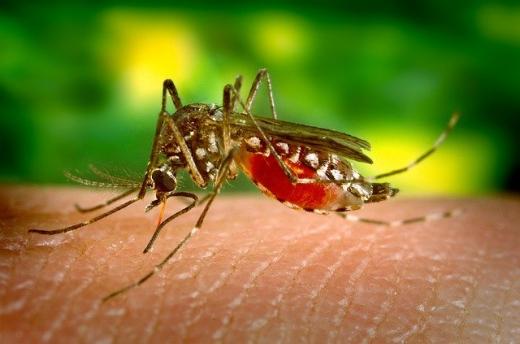 National Mosquito Control Awareness Week is June 20-26. Enjoy your summer without the pain of mosquitoes in and around your home and do your part to spread mosquito control awareness and help Take Care of Texas with these helpful tips.
General Mosquito Information
Texas A&M AgriLife Extension's Agricultural and Environmental Safety Unit personnel have identified 84 species of mosquitoes in Texas. This means you've probably had a bite or two from several different types of mosquitoes. While male mosquitoes don't rely on blood and only feed on nectar, female mosquitoes engorge themselves on blood from humans and animals and carry diseases.
Aside from the skin irritation caused by an allergic reaction to mosquito saliva, the diseases and viruses transmitted from bites include malaria, dengue virus, Zika, and West Nile virus in humans. They can also transmit several diseases and parasites to dogs and horses, including dog heartworms, eastern equine encephalitis, and West Nile virus.
Mosquito Control Awareness Week Video
Common Mosquito Sources
Mosquitoes lay their eggs in standing water, which can serve as a food source for beneficial predators like fish and dragonfly nymphs in the mosquito larvae state. Stagnant portions of ponds, lakes, streams, marshes, swamps, clogged ditches, temporary pools, and puddles are all prolific mosquito breeding grounds. Other sites in which some species lay their eggs include: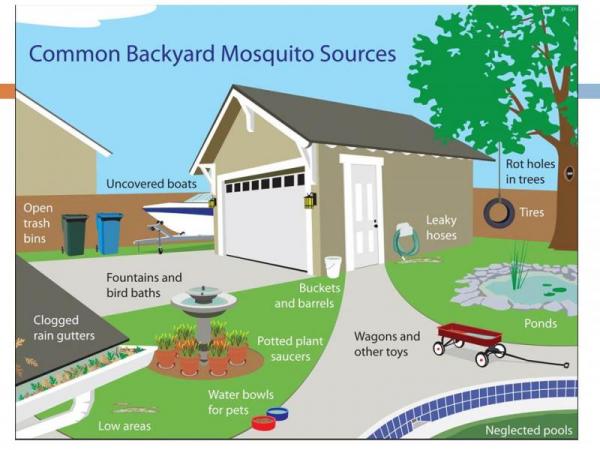 old tires
birdbaths
tree holes
clogged gutters
buckets and cups
toys and play sets
plastic covers and tarps
potted plant trays and saucers
Mosquito Prevention
There are many ways to prevent mosquitoes from ruining your summer and feasting on your flesh. The first step is to find and eliminate mosquito breeding grounds from your property. You can eliminate many of these spots by draining or dumping standing water, filling items with sand or gravel, or by turning over or covering places that catch water.
If your mosquito problems are more severe, here are some do-it-yourself backyard mosquito control options:
Treat standing water with mosquito insecticide (larvicide).

Use a mosquito fogger around the yard.

Apply backyard residual sprays on surfaces.

Install preventions like bug zappers, mosquito traps, ovitraps, or mister systems.
If you choose to use chemicals, be sure to research the product's active ingredients to know if it is harmful for humans, animals, plants, or beneficial insects.
Mosquito Control Videos
Check out these mosquito control videos below by Dr. Mike Merchant, Texas A&M AgriLife Extension Entomologist.
Control Options
Protecting Yourself
Stopping Mosquitoes at the Front Door
Preventing Mosquitoes
Additional Resources
Here are some additional resources for you to reference when you "fight the bite" and spread mosquito awareness with others: