Minimizing Waste at the Grocery Store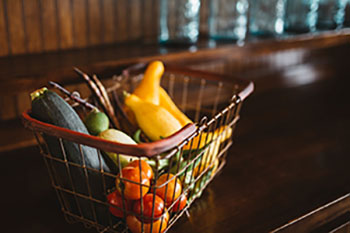 Now that we're in the holiday season, we can expect many visits with friends and family.  Whether we're hosting these happy events or visiting others, we'll be making dishes of food to share with our loved ones. So naturally that means making numerous trips to the grocery store.  But have you considered that all these trips to the store might add up to lots of unnecessary waste in our landfills? We've compiled some ways that can reduce your grocery store waste.
Plan Your Meals and Make a Grocery List
If you plan your meals for the week before you go shopping, you'll spend less and make fewer impulse purchases. Write down the items you'll need to make your favorite meals, including the quantities for each ingredient. Make a list and stick to it.
Don't Forget Your Reusable Bags
It's important to bring reusable bags when we go grocery shopping. Plastic, one-time use bags aren't always disposed of properly and can end up as litter everywhere from parks to parking lots. So, remember to bring plenty of reusable bags with you every time you go shopping. Keep a few in your trunk if you're a forgetful person.
Buy Bulk When It's Available
Many grocery stores now offer bulk purchases on dry goods and common items such as rice, beans, nuts, flour, sugar, peanut butter, and many others. Buying in bulk reduces the amount of packaging you'll take home and then throw away or recycle. Also, consider bringing your own containers or bags to fill with bulk items.
Recycle As Much As You Can
Food packaging can quickly add up. These containers comprise a large portion of the municipal solid waste that goes into our landfills, amounting to 77.9 million tons in 2015 (29.7 percent of the total generation).  Bringing home some packaging is unavoidable, but, luckily, it may be recyclable. Check with your waste hauler or local government to find out what is recyclable in your area. Don't forget to put your recyclable items in the recycling bins.
Compost Your Food Scraps
Instead of scraping your plate of food scraps into the trash or grinding them up in your disposal, consider putting them in your own compost pile. Not only will this prevent food from taking up space in landfills, but it will provide rich nutrients for your lawn and gardens. Learn more about how to start composting by watching our video "How to Start Composting in Your Own Backyard."
Be Thrifty
Try to use up your older ingredients and leftovers before you go out and buy new items. It couldn't hurt to learn the difference between "sell-by," "use-by," "best-by," and expiration dates. You may find you can use a lot more of your existing food than you thought. If you shop in your refrigerator and pantry first, you'll waste less and spend less money.