Make the Great Outdoors Your Classroom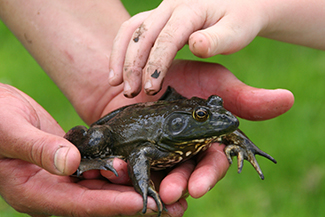 To teach students about the importance of our outdoor environment and how to take care of Texas, you need access to appealing and informative curriculum. With that in mind, we've compiled a list of education tools and resources for you to engage your students in learning about the outdoors, conservation, green living, and more.
-    Outdoor Learning by the Texas Parks and Wildlife Department :  TWPD provides outdoor activities for children, as well as publications and other teaching resources, for parents and educators. Check out their classroom resources, including activities and lesson plans and educational loaner trunks available free of charge to formal and informal educators and youth leaders. Also, explore Project WILD, a hands-on program for K-12 grades that is correlated to the TEKS.
-    Outdoor Learning Environment (OLE! Texas) by the Texas Health and Human Services: OLE is a pioneering
statewide obesity intervention initiative. The project has received national attention for its innovative approach, which increases childhood physical activity and food awareness by improving outdoor environments at childcare centers.               
-    The U.S. Fish and Wildlife Service's Schoolyard Habitat Program: The Schoolyard Habitat Program helps teachers and students create wildlife habitat at their own schools. The USFWS provides a how-to guide to transform your school grounds into a place that engages the entire school community in habitat restoration. It will take you and your students through each step of the project's process: planning, installing and sustaining. Typical projects include: wetlands, meadows, forests, and variations based on specific ecoregions. 
-    The Meadows Center for Water and the Environment Texas Stream Team: Grow with a statewide program of volunteers trained to conduct water quality tests and collect data. Science teachers are encouraged to form groups that provide students with hands-on lessons in biology, chemistry, and ecology.  
-    Guadalupe-Blanco River Authority Education Services: The GBRA Education Department conducts field trips for teachers and students to increase their awareness and appreciation of the water and natural resources in the Guadalupe River Basin. The programs are appropriate for children, teachers, and youth leaders.
-    National Oceanic and Atmospheric Administration Teacher at Sea Program: Kindergarten through college-level educators can apply to sail aboard NOAA research ships to work at sea under the tutelage of scientists and crew. This program provides teachers with hands-on research experience, giving them real-world insight into the oceanic and atmospheric research that is crucial to the nation.   
-    NOAA Ocean Guardian School: The Ocean Guardian School program provides projects for students related to watersheds, oceans, ocean areas, and marine sanctuaries. It has opportunities for students and teachers to join in a range of environmental activities.
For information on why outdoor learning and play benefits children, check out this article from the U.S. Department of Education.
For more resources for teachers visit our teachers resources section.