Lessons from Winter Storm Uri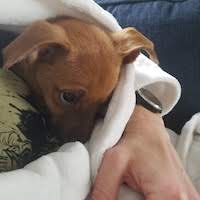 We at Take Care of Texas acknowledge that the February 2021 winter storm was inconvenient for most, traumatic for many thousands more, and tragically fatal for some Texans. The following is a personal account of the crisis from an ordinary Texas homeowner and Take Care of Texas staff member.
---
As someone who grew up in the Midwest, I feel very fortunate to live in Texas. I no longer live through months of sub-freezing temperatures and snow-covered landscapes, followed by flooding thaws. So when winter storm Uri descended on Texas just after Valentine's Day, I had no idea that such weather could affect Texas infrastructure and homes so profoundly. The experience exposed to me that my home and my skills needed some work!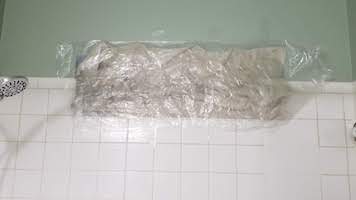 Wasted Energy Exposed
Like many Texans, I lost power and heat in my home for several days. As the temperatures outside dropped and I rushed to get food out of my slowly warming fridge to the much colder back porch, I realized how quickly the outside air gets in when you open doors! I am very fortunate to have modern windows in my house, but I could feel every little draft coming through the imperfect door weather seals and notice the temperature drop when I opened any doors. The short, single-pane, drafty windows in my bathroom were hastily stuffed with random towels held in the frame with packing tape to minimize this. This made me keenly aware of how hard my AC must work in the summer to keep the indoors comfortable. 
Next, I surprised myself with the number of times I foolishly flipped light switches in dark rooms expecting lights to come on without power. My habits never completely adapted to the new reality of a non-electrified home. I reflected on how wonderful a luxury of modern living it is to have illumination on demand, and how often I leave lights and other items turned on, wasting energy, even though I am aware of the problem.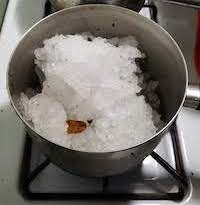 Water is Precious
My power was out for a little over two days and I managed to stay warm enough to tolerate it. I was very grateful when it came back on, but shortly after that, the water pressure dwindled. As the flow slowed from a trickle to nothing at all, we attempted to fill a bathtub with water just for toilet use. After moving water from the tub to the toilet tank using a pot a few times, my comprehension grew for how much water a toilet uses—even a modern, water-efficient one like mine!
As the sun came out and the weather swiftly warmed back up to a typical balmy Texas February, the snow on my roof melted like magic! I placed every bucket, storage container, and empty trash bin I could spare under the corners of the eaves collecting water for toilet use. It was astonishing how quickly a 13-gallon trash can could fill up. Hauling melted snow-water by the bucketload into the house became a full-time job. I am embarrassed to admit that, after years of extolling the virtues of rainwater harvesting, I've never installed a single rain barrel. Having one would have made this situation easier, and my potted plants would have benefitted if I had done that years ago.
Community is Everything
None of that week's events make sense outside of community. Online and in person, empathetic neighbors came out of the woodwork to find the best resources, information, and materials that got us through it. Our ability to remain informed, warm, fed, hydrated, and housed in a crisis largely depended on neighbors helping neighbors. The chance to be helpful and the short but meaningful interactions with people I only barely knew, despite living so close, was fantastic.
Learning from a Crisis
In summary, Uri has inspired me to do a few things in my own home to Take Care of Texas.
Weatherize my home, including some better weather strips on drafty doors and eventually replacing the bathroom windows.
Become more aware of items left switched on, and save more energy at the light switch, the thermostat, and the power button.
Conserve water better in the bathroom with fewer flushes, shorter showers, and by reusing water whenever possible.
Finally install a rain barrel (or three!) to collect some of the vast amount of water available to me for free from my small roof.
Get to know my neighbors. Of all the natural resources Texas possesses, the most natural and abundant is neighborly friendliness.