July is Smart Irrigation Month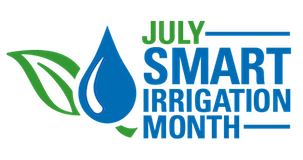 July is Smart Irrigation Month, making it a great opportunity for you to consider your irrigation options. As Texans use irrigation systems for agriculture, gardening, lawns, and commercial landscaping, we share a tremendous opportunity to help conserve water, protect our water quality, and save money in the process. We've consolidated the best information from regulatory experts to help you get started.
Why You Need a Licensed Irrigator
In theory, a handy individual can, by state law, design, install, and repair their own home irrigation system. However, depending on your city, municipality, or local water supplier's rules, you will likely need a permit to do so, and may require a license to install irrigation systems. You will also need a licensed individual to properly test the installed backflow prevention device. Given these limitations, most Texans will need the help of a licensed irrigator to install, test, and maintain their system.
What a Licensed Irrigator Will do for You
A licensed irrigator (LI) knows how to properly set up your irrigation system with safety and conservation in mind. To conserve water, a licensed irrigator will install the appropriate sprinkler types and heads to ensure total coverage and minimize water loss. The system will be adjusted for appropriate pressure and timing.
Equipment will be installed to prevent water waste during rainfall or leaks. Additionally, a backflow prevention device must be installed and tested to prevent non-potable water from contaminating the water supply. A licensed irrigator can ensure that the right backflow prevention device has been installed and tested.
How You Can Save Money and Water
Lawn and garden watering make up 30—50% of water use in Texas households, and up to 50% of that water could potentially be wasted through evaporation and runoff. Working with a licensed irrigator to design, maintain, and operate an efficient irrigation system will help you conserve water and save money.
In addition, using the services of a licensed irrigator can protect you as a property owner from potential liability if your irrigation system fails to meet state or local standards. If there is a legal problem with the system, the irrigator has certain duties for which they will be held responsible.
How to Find a Licensed Irrigator
TCEQ has made finding a nearby licensed irrigator simple with our licensing search tool. You can use this tool to find licensed irrigators in your zip code, city, or county, and ensure that your irrigator is up to date with regulations and best practices. You can also check the status of a licensee you are considering for your work by entering the name or license number.
Additional Resources
For additional information about the different types of licenses that TCEQ issues, please visit our Occupational Licensing Programs page.
TCEQ has also created a document to help you navigate the world of professional irrigation in Landscape Irrigation: A Consumer's Guide to Landscape Irrigation in Texas (English and Spanish, PDF download).
If you wish to view the appropriate regulations to help navigate the rules for irrigation, please visit TCEQ's Landscape Irrigator's Rule Compilation.
For even more resources, such as inspections tools, national organizations, and local help guides, please see TCEQ's Requirements and Resources page.
If you wish to file a complaint about a licensed irrigator, you can do so with TCEQ's Complaints and Enforcement page or call TCEQ's Landscape Irrigation Program at (512) 239-LAWN (5296).