It's Time to Nominate 2021 TEEA Winners

Since 1993, TCEQ has recognized the outstanding environmental contributions of organizations, businesses, and individuals through the Texas Environmental Excellence Awards. We're looking to you to nominate the next group of standouts to honor in the 2021 award cycle!
Each year, from June to October, TCEQ accepts nominations for this prestigious award. There are ten categories ranging from Agriculture to Innovative Operations to Educator of the Year.
An impartial blue ribbon committee will recommend award winners for consideration by the TCEQ commissioners and the Governor. Award winners and finalists will be recognized at TCEQ's Environmental Trade Fair and Conference Banquet in May 2021. The outstanding achievements of selected winners will be showcased with promotional videos filmed and produced by TCEQ and a professional film crew.
Civic/ Community Award: Keep Texas Recycling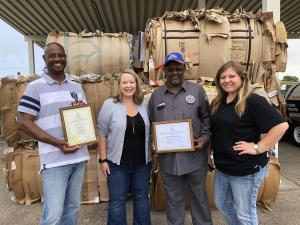 Keep Texas Recycling is a 2020 TEEA winner. Rachel Hering ran Cooperative Teamwork & Recycling Assistance–now named Keep Texas Recycling, as part of Keep Texas Beautiful—to assist rural communities with recycling. Hering told us about the benefits the award has brought to the organization:
"Keep Texas Recycling is honored to be a 2020 Texas Environmental Excellence Award recipient, primarily because this recognition reflects the dedication that rural communities throughout Texas contribute to their recycling programs and the environment. This award also gives visibility to the work that KTR does."
Winners of the Environmental Educator of the Year award receive $2,500 from Waste Management, Inc. to support their environmental education efforts.
Educator of the Year: Corina Fuentes Garza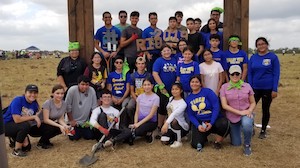 2020 Educator of the Year, Corina Fuentes Garza from Valley View High School in Hidalgo, explains what it means for her to be selected as an Environmental Educator of the Year:
"Being nominated for the award was truly an honor and earning the award really means so much more. A few years ago, I was at a crossroads and I had to decide between continuing my water conservation research and going for a PhD at Texas A&M University or becoming an educator… I had to [ask] myself, how can I have the greatest positive impact on the environment? I decided that the answer was teaching our future generations… I am so thrilled to have won this award and to be recognized at the state level."
---
For more information about the awards or our 10 diverse categories, please visit www.TEEA.org or email us at awards@tceq.texas.gov. You can check out our 2020 TEEA Winners blog post for more information on the recent award recipients. If you would like to nominate a great project or person, we encourage you to visit our How to Apply page.