How to Beat the Summer Heat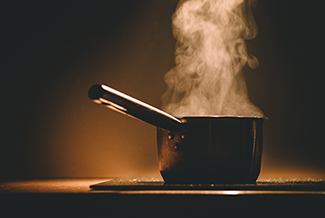 Most of us don't enjoy sweating over a hot stove in the heat of the summer. Not only is it uncomfortable, but using your stove or oven during the Texas heat makes your air conditioner work harder to keep your home cool, resulting in higher energy costs. However, many household kitchens  have slow cookers, microwaves, and other small appliances that won't heat up your home, and use a fraction of the energy of a stove or conventional oven. And don't forget about your grill! It wouldn't be a Texas summer without a cookout. Check out the article below for delicious ways to keep your family fed while keeping cooling costs down.
Cook Low and Slow
Many people swear by the set-it-and-forget-it ease of using a slow cooker. Not only will you save time by using this convenient appliance, you'll keep your kitchen much cooler. In addition, slow cookers use significantly less energy than a stovetop when you're preparing soups, stews, or other meals that take hours to cook.
Recipe ideas:
Slow Cooker Chicken Taco Chili
Slow Cooker Peach Cobbler
Fire Up the Grill
Most Texans know there are a ton of recipes for the grill. After all, it just wouldn't be summer without a cookout. Not only is grilling a fun tradition, but cooking outside means your kitchen stays cooler.
Recipe ideas:
Grilled Texas Onion Dip
Texas Watermelon and Honey-Gingered Pork Kebabs
Use Your Toaster Oven for More Than Toast
The average toaster oven can use 30-50% less energy than  the average full-sized oven over the same cooking time. Although there aren't many recipes that specifically call for a toaster oven, try substituting it for your conventional oven when making your favorite meals. It's also a handy way to reheat leftovers.
Recipe idea:
Avocado Breakfast Bruschetta
Try Recipes That Don't Require Cooking
Here's a no-brainer: If you don't want to heat up your kitchen, how about making meals that don't require cooking? You and your family might even prefer cold food on a hot summer day.
Recipe ideas:
Rio Star Cowboy Caviar 
Frozen Greek Yogurt Snack Bars
Use Your Handy Microwave
Microwaves are convenient for cooking small portions and can use up to 80% less energy when reheating than a standard oven. Although there aren't many recipes that are specifically designed to cook with a microwave, try using it instead of your oven or stovetop when possible. For example, try cooking bacon, steaming vegetables, poaching eggs, or boiling water in your microwave.
Recipe ideas: 
Apple-Stuffed Squash
Awesome Granola
Get more energy-saving tips on our blog.
Recipes courtesy of Texas A&M AgriLife Extension, GO TEXAN, and the United States Department of Agriculture.