How to Be Energy Smart When Streaming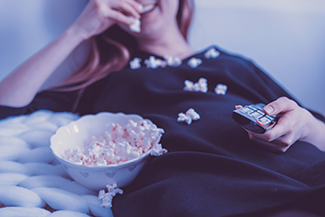 Did you know that watching television is the most popular leisure activity in the United States? On average, Americans watch 2.8 hours each day. And now, there are more ways to view your favorite shows and movies than ever—from cable subscriptions to the trusty antenna.
There's also a relatively recent phenomenon called streaming, which is still on the rise. In 2016, more than half of the US population watched TV via online streaming services such as Netflix, Hulu, Amazon Prime, and others. Although streaming has become more common, people may not be aware of the electricity needs of the various streaming devices. Have you considered your energy use while streaming? Keep reading to learn how to stream green.
Your Streaming Device Matters
Smart TVs are a Smart Choice
If you want to stream to a large screen, Smart TVs are the most energy efficient choice. Smart TVs can be connected to the Internet over Ethernet or Wi-Fi, and allow you to download or watch content. In addition to displaying traditional broadcast TV, they can also run apps, display interactive on-demand content, and provide access to other web-based programs.
Digital Media Players Are Energy Efficient
A digital media player, also known as an "over-the-top" device, is another way to stream online content. This includes devices such as Roku, Apple TV, and others, that connect to your existing TV. Digital media players are inexpensive and easy to use and install. These gadgets use more energy than a Smart TV, but are still a good choice. In fact, they are four times more efficient than a cable or satellite box and 11 times more efficient than a computer.
Tablets Use the Least Energy
When you're watching TV on the small screen, use a tablet if possible. It's four times more energy efficient than a laptop. Tablets were designed for simple tasks such as browsing the Internet or streaming, and that's why they use the least energy.
Use Game Consoles for Gaming
Game consoles are the least efficient choice for streaming to your TV, and can use 10 to 15 times more energy than other devices. The way you connect your console and adjust the settings can also increase your electricity consumption unnecessarily. Check out this article to set up your console to save energy.
Save Even More with ENERGY STAR
If you're planning to purchase streaming equipment, make it ENERGY STAR. ENERGY STAR certified products that enable streaming are 25 percent more efficient, on average, than their standard electronic counterparts. Check out the ENERGY STAR website to find tablets, Smart TVs, and digital media players.