Help Kids Relate to Energy Conservation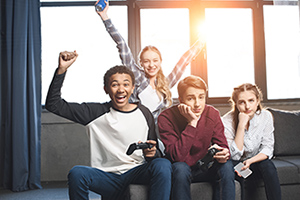 It's no secret that teens and kids love video games. This article can help you turn their passion into a lesson on energy conservation.
The features on the newest game consoles draw power, even when no one is using them. However, there are many ways to reduce a console's energy use and still enjoy its exciting features.
Use this article to make energy conservation relevant to your kids and to help them learn how to do their part.
Turn On Settings that Save Power
Xbox One: Configure the "Energy-saving" Power Mode on the Xbox One and drop its standby power use by 98 percent! This will disable certain features, such as the listen for the "Xbox On" command.
Play Station 4: The PS4, with software updates, enters a low power "Rest" mode after one hour of inactivity—which can be reduced to save even more. Users can also enable time limits for USB power charging when the PS4 is in "Rest" mode.
Wii U:  The Wii U's power consumption is already optimized in all non-gaming modes, consuming less than half a watt when your console is standing by.
Disconnect the Xbox Kinect When You Aren't Using It
The Xbox Kinect accessory uses up to 14 watts of electricity when you are using the game console, even if you aren't using Kinect. Save electricity by disconnecting Kinect when you don't need it.
Turn Off the Controllers
The controllers of the PS4 can be programmed to turn off when not in use or to be set to turn off after 10, 30, or 60 minutes. Or, simply turn off your controllers when you're finished, just like you would turn off the lights when you leave a room.
Keep Your Software Up-to-Date
Some software updates are designed to help save energy. For example, after the release of a software update, the PS4 now powers down automatically and the USB ports reduce their energy use by 65 percent once the controllers are fully charged.
Plug Your Game Console and Cable Box into Separate HDMI Ports
Running your cable box through your game console requires the console to consume energy, even when you are not playing it. Instead, connect each device into a different HDMI port so that you can turn them off when they are not in use.
Don't Stream Through Your Game Console
There are many devices for streaming video content including game consoles. However, game consoles are the least efficient choice, using more energy than a digital media player (such as an Apple TV or Roku), smart TV, tablet, or laptop.
Need help with the energy-saving settings on your console? Check out the ENERGY STAR website for instructions.