Gift-Giving Gone Green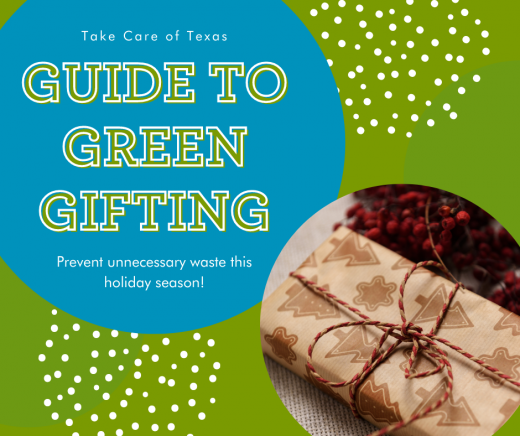 The holiday shopping season is here again. A time for perusing super deals, opening delivery boxes, wrapping up gifts, and figuring out when to take out all the holiday shopping related trash!
This year's shopping season looks a little different already, so why not add a green twist to your gift giving? Whether you're shopping in stores, ordering online, or handcrafting a gift, there are simple ways you can prevent unnecessary waste.
Here are some helpful tips for shopping Black Friday, Small Business Saturday, Cyber Monday, or any other day of the year.
Be sure to follow social distancing and local safety guidelines along the way!
Shopping in Stores
Limit driving and consider carpooling—Plan your route to reduce trips, which means less driving and vehicle emissions. Many people go shopping by themselves; why not invite someone along to save? They could even help find you deals or give second opinions. 
Second-hand store—The ideal gift might have already been in someone else's hands! Shopping second hand removes products out of the waste stream and is a great way to upcycle or refurbish items as gifts.
Quality, reusable gifts—There's nothing wrong with buying new, though! Aim for quality products with long life spans or reusable/replaceable features. Higher quality products that can be reused stay out of landfills longer. Look into the source and upkeep of quality materials before purchasing.
Bring your own bag (or giftwrap)—You can prevent plastic bags becoming waste by bringing your own reusable bags while shopping. This also applies to stores that will offer giftwrapping services. While it's convenient to bring wrapped presents home, you can opt out of giftwrap service and go with a greener option. (See packaging and wrapping below.)
Online Shopping
Consolidate orders—Bulk orders are great! Not only is it environmentally-friendly, but it reduces the number of packages and the potential for holiday porch pirates.
Eco-friendly retailer options—Ordering online gives you access to vendors and shopping options not always available in stores. See if the products are made sustainably, have environment-friendly packaging, or offer green shipping options.
Packaging and Wrapping
Reuse packaging—Reuse the shipping box or other household items (shoe boxes, cookie tins, and empty food boxes) for your gifts this year. This also applies to reusable packaging, like newspaper for stuffing and wrapping.
Double-use packaging—Use functional packaging as creative gift wrap. "Wrap" jewelry in a new pair of socks, camping gear in a backpack, or snacks in a new lunchbox.
Gift hide and seek—Instead of using wrapping paper as the element of surprise for this year's holiday gifts, shake up the tradition and hide them! You'll save gift wrap from the trash, while keeping it fun for everyone involved. Increase the level of difficulty relative to participants' ages.
Alternate Gift Ideas
Recycling the old—If you're shopping for new appliances or electronics, consider properly recycling your old ones. Some retailers and manufacturers offer take-backs for certain items you're trying to replace for others or yourself. Learn more on our holiday electronics recycling blog post.
Give experiences/coupons—Many people remember experiences more than tangible gifts. Experiences like gift cards to movies, tickets to events, paid music lessons, or unique activities like escape rooms prevent physical holiday shopping related waste. Gift coupons from kids or partners to do chores or projects is also an easy alternative idea. 
Regifting is okay—Have something you don't want anymore and someone else might appreciate? Regifting is a great way to reduce waste while not having to go shopping, in store or online. Books, clothing, sports or camping equipment, and kitchenware are a few popular ideas to regift, depending on the recipient.
Local Considerations
Check with your local waste management service for any holiday adjustments to their pick-up schedules. These providers, or your municipality, might have more information on what goes in the trash and what is recyclable or compostable. Learn how your waste disposal service wants you to dispose of cardboard boxes to keep them out of the waste stream. For instance, you may be required to break them down prior to pick-up.