Get Smart with the Latest Energy Saving Technology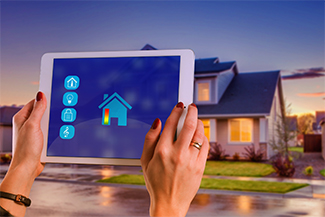 The use of smart devices is on the rise. From televisions and speakers to lightbulbs and even doorbells, smart devices help make life easier. When you notice you're out of bread, you can tell your digital assistant to add it to your shopping list. On your way to work, if you realize you left the lights on, you can use your smartphone to turn them off.
But did you know you can raise your home's IQ even more by investing in ENERGY STAR smart technology?  These devices do more than just save energy–they provide added convenience, too.
Smart Thermostats
A smart thermostat is a Wi-Fi enabled device that automatically adjusts temperature settings in your home for optimal performance. Common features include:
Controlling your thermostat through your smartphone.
Learning your heating and cooling preferences and establishing a schedule that automatically adjusts to energy-saving temperatures while you are away.
Using geofencing to know when you're on the way home and adjusting the temperature so you arrive to a cool home.
In Texas, heating and cooling account for 40% of a home's energy use, on average. So when you're looking for smart thermostats, be sure to look for ENERGY STAR certified models. They offer the same convenient features as other smart thermostats, but also offer demonstrated energy savings, reliable performance, and environmental benefits. If every home in the United States used an ENERGY STAR smart thermostat, it would save the energy equivalent of taking 1.2 million vehicles off the road.
Smart Appliances
It's becoming more and more common for appliances to have smart features. ENERGY STAR labeled appliances with smart functionality have new features that are convenient and offer even more energy savings. With smart appliances, you can:
Get an alert if your refrigerator door is open.
See the inside of your refrigerator without having to open the door and let the cold air out.
Schedule your clothes washer or dishwasher to run when your electricity rates are lowest.
Turn your room air conditioner off remotely from your smart phone if you forget before you leave home.
Smart Lighting
These days, advanced lighting control is often as simple as screwing in a light bulb and connecting it to your Wi-Fi. If you choose smart lighting that has earned the ENERGY STAR label, it uses less energy when it's on and in standby mode. There are all kinds of neat features available with smart lights, such as:
Voice control when connected through a voice assistant.
Controls on your smartphone that allow you to turn bulbs on and off, dim them, or change the color of the light.
Functions that learn your lighting preferences and automatically adjust to your schedule.
Scheduling features so you can set lights to turn off and on at certain times.
Occupancy sensors, which turn lights on only when someone is in the room.
Geofencing to automatically turn off your lights based on the location of your smartphone.
You might also be interested in the following articles: