Get Involved: Don't Mess with Texas Trash-Off 2019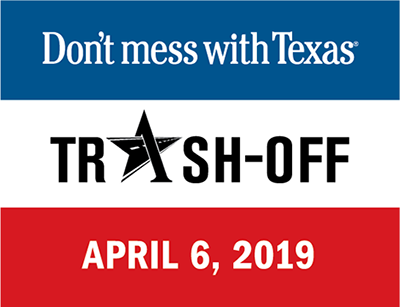 Did you know that approximately 435 million pieces of visible litter accumulate on Texas roadways each year? But if every person in Texas picked up just two pieces of trash every month, our highways would be completely litter-free in just one year. Soon, you'll have an opportunity to be part of the solution.
Every year, Keep Texas Beautiful and The Texas Department of Transportation hold the Don't mess with Texas Trash-Off®—the single largest one-day cleanup event in the state. Don't mess with Texas supports efforts to clear Texas roadsides of trash. Event participants can receive cleanup supplies, promo items, and more. This year's Trash-Off will take place April 1 - 30, with the kick-off event happening Saturday, April 6, 2019.
Your help can really make a difference. Last year more than 31,300 volunteers collected 1.8 million pounds of litter during the Don't mess with Texas Trash-Off.
Be a part of this great event. Your participation sends a clear message to Texans everywhere: the smallest efforts really do make the biggest difference. If you're looking for a Texas Trash Off event in your area, visit the Keep Texas Beautiful calendar page for more information.