Electronics Recycling Tips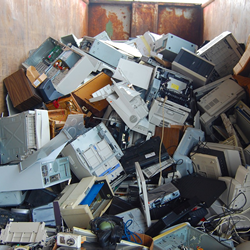 Modern electronics can pack more power into smaller, lighter, and cheaper gadgets every few months. As a result, there is a never-ending race to keep up with the latest and greatest technology to maximize the convenience, competitive edge, and fun. Increased landfill waste, power consumption, manufacturing pollution, and material extraction are downsides associated with all this progress. 
The EPA estimates that Americans purchased 438 million electronic products in 2008, and 3.36 million tons of electronics reached their end-of-life stage in 2014. While the weight of electronic products being purchased every year is decreasing, the number of individual items being purchased is still increasing. 
These items are often housed in plastics that will virtually never break down, contain large amounts of valuable metals that can be recycled rather than mined, and toxic materials that can affect the environment and human health. The responsible choice is to find ways to recycle or reuse as much of this material as possible. 
Properly disposing of electronic waste has never been easier! Civic organizations, industry leaders, and government agencies have laid out an array of options to help you Take Care of Texas using the following tips. 
Repurpose Your Devices
Many electronic items can still be useful after you've upgraded. 
Repurposing: Many items can be reused for alternative purposes. Old cell phones, tablets, and laptops that still work can run games and other basic programs. Old cell phones can be used as security or dashboard cameras. 

Avoid disposing of damaged or broken devices by repairing them, if possible. 

Most common among these practices is replacing a cracked cell phone screen, which costs far less than replacing the whole phone. 
Emergency Phone: By law, all cell phones must be able to make a 911 call, even if they are not connected to a carrier plan. If your old, indestructible flip phone can hold a battery charge, you can keep it around to contact emergency services in a pinch. 
Donate to Help a Charitable Cause
Cell Phones for Soldiers monetizes donated smartphones and tablets and turns the funds into talk time that deployed soldiers can use to call home. 
The National Council Against Domestic Violence will send your donated cell phones, laptops, mp3 players, digital cameras, and video game systems to Cellular Recycler, a third-party program that recycles or refurbishes the items. NCADV receives funding back from these contributions. 
Donate to a thrift store. Most thrift stores welcome electronic items that work and they can resell or recycle. Call your local thrift store ahead of time to see if they can take in CRT televisions and other older items for recycling, as some cannot. 
Recycling Specific Electronic Items
When an electronic device is no longer functionally useful to anyone, it can be disassembled and its materials recycled. To ensure the best recycling potential, consider the following guidelines: 
All electronics

—Many retailers have local recycling drop off locations, including Best Buy,

Goodwill, and Staples. Some will even give you store credit for your contribution. Find more specific online help from resources such as GreenerGadgets.org, RecyclingStar.org, and ElectronicsTakeback.com.
Old TVs—Many retailers and manufacturers will take back your old TVs, so find a drop off location at TexasRecyclesTVs.org.
Computers—Find manufacturer-specific computer recycling programs at TexasRecyclesComputers.org.
Rechargeable batteries—Collection bins for rechargeable batteries can be found in many community retailers, but you and your business can also recycle batteries on a larger scale through the Call2Recycle program.