Eight Tips to Stay Warm and Cut Costs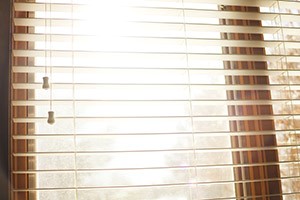 In Texas, heating and cooling account for as much as 40% of your home's energy usage. With the arrival of colder weather it can be tempting to crank up the thermostat, leading to higher energy costs. Luckily, there are many ways you can cut your energy consumption and stay warm this winter. Check out these tips to save money and energy for National Cut Your Energy Costs Day in January!
Open your curtains or blinds during the day to allow sunlight to naturally heat your home and then close them at night to help reduce any chill you feel from cold windows.
Reverse your ceiling fan to force the warm air near the ceiling down into the living space. The fan blades should be spinning in a clockwise direction on a low speed.
Make sure all air vents are clear of any furniture or rugs to improve air flow and comfort.
Set your thermostat as low as comfortable when you are home. To save 10% on your heating costs, lower your thermostat 10 to 15 degrees while you are sleeping, or for about eight hours each day.
 
Check your home for air leaks. You can hire a professional who will thoroughly examine your house, or you can find many leaks yourself.
Add caulk or weather stripping around windows and doors. Cover drafty windows with heavy-duty plastic, insulating drapes, or shades.
Seal your duct system.  20-30% of the air from your heating and cooling system may be lost through your ducts if they are not sealed properly.
Consider replacing your screens with storm windows in the winter.
Want more seasonal tips to save energy? Visit other webpages to learn more on how you can do your part around the house.