Easy Ways to Reduce Waste in Your School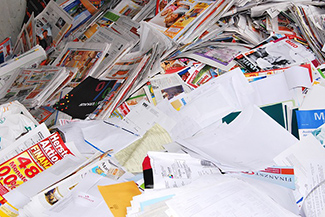 Every year parents, teachers, and students purchase new supplies, lose old ones, and throw away tons of school materials. This creates waste and results in unnecessary expenses. But we can make a difference if we all pay a little more attention to reducing our waste. 
Reducing waste leads to benefits such as:
-    Decreased costs and increased income (if your school can find a buyer for your recycled materials).
-    Energy savings as a result of reduced manufacturing.
-    Less materials go into the landfill.
-    Students learn about environmental issues.
Keep reading to learn about resources and tips to reduce waste at school.
Guide to Reducing Waste
To get you started, the Environmental Protection Agency has a detailed guide on how to reduce waste in schools.  In it they explain how schools, school districts, and school business officials can start or expand an existing waste reduction program. Some basic points they cover are:
-    Conducting a waste assessment to learn the types and amount of waste your school generates. 
-    Setting waste reduction goals.
-    Determining how involved students will be in the program and if it will be a part of their curricula.
-    Identifying the materials you will collect.
-    Establishing how you'll collect materials.
-    Identifying available space to store recyclables in your school.
-    Determining how you will pay for costs such as hauling fees, collection containers, and dumpster rentals.
-    Deciding how you'll evaluate your program's success.
Tips to Reduce Waste at School
Classroom Supplies and Equipment
Don't Buy What You Don't Need - Before shopping for next year's school supplies look through last year's, checking for any items that can be reused. Also, keep up with your existing supplies so that you don't have to buy new items unnecessarily. 
Buy Recycled - When you find yourself shopping for new school supplies, buy products that are made from recycled items. You can find items such as pencils made from old blue jeans and binders made from old shipping boxes.
Buy Less Packaging - It seems like everything we purchase is wrapped in layers of useless packaging. Seek out and purchase items that have minimal packaging instead. Buying in bulk also helps reduce excess packaging.
Reuse and Repurpose - Some packaging can be saved and repurposed. Egg cartons, for instance, can be used to store arts and crafts items. 
Keep What You've Got - Rather than buying new items, repair and maintain the things you already own.  If you can't repair an old electronic item, recycle it. 
Cafeteria and Mealtime
Make Lunch Reusable - If your students bring their lunch to school, encourage them to bring it in a reusable container instead of the traditional old brown bag. Individual reusable packaging is also available for items like sandwiches, fruits, and vegetables. Of course, reusable water bottles or other refillable drink containers are another great way to reduce packaging.
Use Only What You Need - There's always a tendency to grab a giant wad of napkins or heaping handful of ketchup packets when we're in a hurry to eat. But taking more than you need adds up to a lot of waste. Encourage students to take only what they can use.
Set Up Recycling Bins - Cafeterias are a ripe environment for wasting cans and bottles. Make sure your cafeteria is well equipped with plenty of bins to divert recyclable items from the landfill. Be sure to make the students aware of their placement and their use. Check out our Texas School Recycling Guide for information about setting up a recycling program.
Play First, Eat Later - Scheduling recess before lunch can reduce plate waste, the amount of food discarded by students, by as much as 30%.   Furthermore, if lunch can be extended from 20 to 30 minutes, it can reduce plate waste by nearly one-third.
Donate - Consider donating unused food to a food pantry program or a homeless shelter.  
Compost - Create a compost pile using unwanted food scraps. Compost can provide much needed nutrients to any landscaping or gardening projects you might have on campus. Check out this article on starting your compost pile.