Eagle Scout Earns Pin for Environmental Project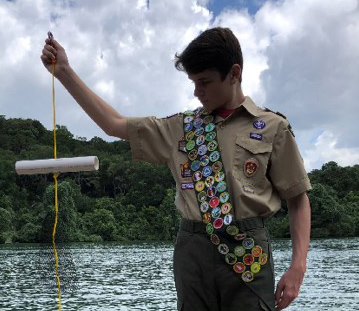 Declan Howell, a 13-year-old from Austin, had just recently earned his Eagle Scout award when he saw a challenge and decided to face it head-on. Because that's what scouts do—they accept challenges and find solutions. In this case, Declan saw a need to combat the zebra mussels invading our Highland Lakes. Declan earned a Take Care of Texas Award Pin with his project. 
Zebra Mussels are an invasive species that spreads very rapidly, disrupting native ecosystems and causing extensive damage to infrastructure and property. Declan coordinated with the Texas Parks and Wildlife Department to set up zebra settlement sampler boxes near boating areas around Inks Lake and Bastrop Lake.  
A "settlement sampler" is a simple device consisting of some small PVC pipe segments and plastic mesh attached to a rope, with a brick weight. It hangs in the water and provides an attractive place for young zebra mussels to attach. If zebra mussel infestations are found in their early stages, the Lower Colorado River Authority and other proper authorities can take measures to mitigate the harm they can cause.   
We caught up with Declan to learn more about his environmental project and his scouting career. 
Q: How many years have you been in scouts? 
A: I've been in scouts for seven years: three years in Scouts and four years in Cub Scouts. 
Q: How far do you plan on going in scouting? 
A: I recently received my Eagle Scout award but plan to do the Distinguished Conservation award. 
Q: What other previous projects have you done? 
A: I have not led any other conservation projects, but I have participated in many of them, such as planting pine trees, making seed balls, and invasive tree removal at LBJ National Historical Park. 
Q: You're clearly interested in environmental issues. What got you started in exploring conservation and environmental issues? 
A: I was first introduced to environmental issues from a First Class scout requirement when you had to give a short speech about an environmental issue in your area. At the time, zebra mussels were a significant concern in Lady Bird Lake, so I researched it and later decided to try and help against the zebra mussels. 
Q: What would you say to encourage other scouts who are interested in environmental issues and in earning their TCOT pin? 
A: Scouts really can make a difference on the environment. Even if you feel like your project might not be enough, anything that you can do will help. There are a lot of agencies that are completely willing to work with youth, do what you can to get involved. And lastly, just go for it. 
Q: What are your favorite things about being a scout? 
A: My favorite things about being a scout are how much fun you can have with all of the activities and campouts and how it opens up a lot of doors to things you might never have gotten to do. 
Check out Declan's video he made about his project that helped earn him his Take Care of Texas pin. 
Like Declan, we can all do our part to stop the spread of zebra mussels and other invasive species. Take action by visiting TexasInvasives.org. Learn more about the Take Care of Texas patch and pin programs.