Drought is Widespread Across Texas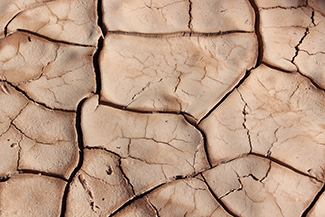 As 2020 ends, drought continues across much of our state. As of December 2020, the portions of Texas experiencing some level of drought conditions has increased dramatically over the past year.
There have been several droughts of note in Texas' history; notably, the seven-year drought of the 1950s, and the major drought beginning in 2010 and lasting through 2015. Check out this interactive story map to see how the most recent major drought evolved.
Drought is one of the most common and costly types of natural disasters in the United States. It can impact the economy, environment, and society by limiting water, impacting habitat, and triggering health and safety problems. In general, drought is considered a prolonged period of below normal precipitation. Scientists consider factors such as rainfall amounts, vegetation conditions, soil moisture, and reservoir levels when characterizing droughts.
Drought Resources
Prepare for a Drought
Weather patterns and demand on water supplies vary drastically across Texas. When dry conditions are prolonged, it can put a strain on all water uses. You can help by implementing practices that will reduce demand for water supplies—before drought strikes, so dry conditions will be easier to bear. In fact, water conservation is an essential part of the State Water Plan.
Use Water Wisely in Your Landscape
Billions of gallons of water are wasted each year due to inefficient landscape irrigation. Download a copy of our Guide to Yard Care (PDF download) to learn about topics such as rainwater harvesting and effective lawn irrigation. For a more advanced course in designing and building a rainwater harvesting system, download our exhaustive Rainwater Harvesting Guide (PDF download). You can order FREE printed copies of these publications for your home or to share with you community.
Use the Native Plant Database from the Lady Bird Johnson Wildflower Center to choose native plants that tolerate drought well.
Check with your local government to learn about watering restrictions in your area.
Save Water in Your Home
Install water-efficient fixtures; look for the Environmental Protection Agency's (EPA) WaterSense label to find quality products that save water. Some ENERGY STAR products can help you save water in addition to energy. Check out dishwashers and clothes washers with the ENERGY STAR label.
You don't have to spend money to save water—some small actions can make a huge impact. Take shorter showers, turn off the water while brushing your teeth or shaving, sweep your driveway instead of hosing it off, and run only full loads of laundry and dishes. Download our helpful infographic, "Be Water Wise at Home" (PDF download) for more tips.
The average household wastes more than 10,000 gallons of water each year due to leaks.Fixing household leaks can be an easy and inexpensive way to save on water.
Check our website to find even more ways to prepare for a drought by conserving water.