DOE State and Local Solution Center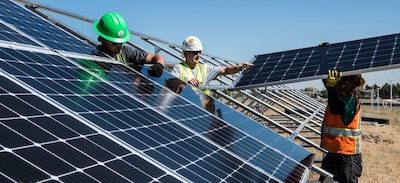 The Department of Energy's State and Local Solutions Center is a fantastic resource for state and local governments, community organizations, and schools to find beneficial energy solutions. The Center is full of resources to help communities find ways to provide energy that is secure, clean, reliable, and cost-efficient. These solutions can create and maintain local jobs, save taxpayers money, and encourage independence and security for the community's energy needs.
DOE has organized these resources into four stages:
Develop an Energy Plan
The Center contains a vast, searchable library of documents to help guide the process of developing an overall plan that saves energy, creates jobs, and grows your economy. Local governments and stakeholders are encouraged to read detailed step-by-step instructions to develop a plan. The literature is peppered with success stories from communities that have developed and implemented such plans to keep you inspired.
Design and Implement Energy Programs
Governments, school administrators, and facility and infrastructure owners receive guidance in this section to establish programs that conserve energy. Topics range from financing energy investments and water treatment projects to street lighting and utilities.
Pay for Energy Initiatives
Get past any difficulties you may have with the up-front cost of infrastructure updates using the tools in this section. Both public and private institutions can find a variety of innovative and traditional methods to finance these programs. Here you'll find valuable guides to bonds, loans, and leasing options to make your community's energy-saving dreams a reality.
Access and Use Energy Data
Being aware of what your energy consumption is now and tracking your progress empirically will be vital to your success. The Center's section on this practice contains detailed guides to benchmarking for comparison with similar programs, managing programs objectively, and evaluating the data collected on the project.
---
If your company, volunteer group, government agency, or other community organization is working to Take Care of Texas, you deserve to be listed among our Proud Partners. To become a part of the free Proud Partner program, fill out this simple Partner Pledge form.
Is your government or civic organization taking steps to improve energy efficiency in your community? Tell us all about it on our Share Your Story page!