Discover Your Lifetime Environmental Impact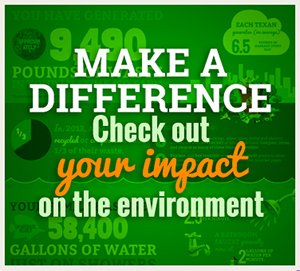 It's natural to wonder how much time we've spent doing various things over the course of our lives. How many hours have I spent asleep? How much time have I spent in traffic? How many hours of football have I watched?
These are all interesting questions. But have you ever thought about how much electricity you've used throughout your life? How much water you've used? Or, how much waste you've generated? Take Care of Texas can provide some answers. 
We have a tool that will calculate your estimated lifetime use of water and electricity, as well as how much waste you've generated. Visit our Make A Difference feature, enter your birth year, and see your results. You'll also find other facts and useful tips on how to reduce your environmental impact. Try it out, and share it with your friends.
The numbers might surprise you!