Congratulations to the 2020 Take Care of Texas Kids Art Contest Grand Prize Winner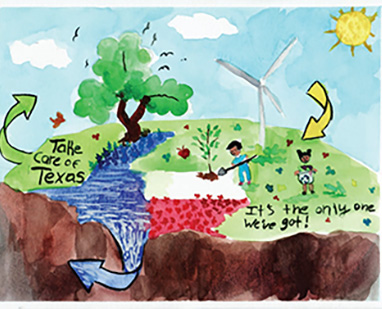 This year our grand prize winner is second grade student Aaria Arora from Walker Station Elementary in Sugar Land! Arora is the youngest grand prize winner in the contest's six-year history.
We invite you to enjoy all of this year's winning entries. We're sure that you will be just as impressed as we were with the students' creativity, artistry, and dedication to the message of Taking Care of Texas.
Over the next few months we'll also showcase some of our "honorable mention" entries on our social media platforms. Remember to like us on Facebook and follow us on Twitter and Instagram to see them all.
Teachers and parents: would your students like to participate the next Art Contest? Enter your email address and check the box for Kindergarten – 5th Grade Educators so you'll be the first to know about the 2021 Art Contest!