Composting at Your Office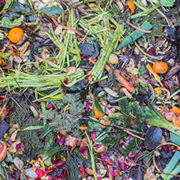 Many offices already recycle and use less packaging, but you can take it a step further by making a communal effort to compost food waste. Employees consume breakfast, lunch, snacks, and hot drinks in the office, creating a considerable amount of waste that ends up in landfills unnecessarily. Instead of throwing it all in the trash, much of this waste can be diverted from landfills by composting. 
Benefits of Composting at Work
Furthers your Proud Partner commitment by reducing the amount of landfill waste you create, 
Creates a low-cost source of fertilizer for indoor plants or landscaping, and 
Gives your team a rewarding, practical project that encourages teamwork. 
Compost Basics
Composting is a simple concept: just separate organic material from your trash. These scraps will break down into usable soil. Your office, especially the kitchen or break room, is full of items that can be composted. The trick is knowing what to put in, and what to leave out.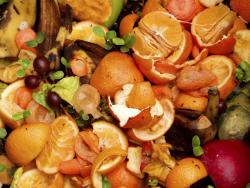 Ideally, you will want to deposit a mix of "green" and "brown" materials. Green materials like food scraps and grass clippings add moisture and nitrogen to the mix. Brown materials like dead leaves and shredded newspaper provide carbon and structure. Coffee grounds, tea bags, shredded paper products, fruit skins, and nut shells are all good compost materials. Do not add meat, dairy products, or oils to your compost.
To help educate your team, share the "What Should I Put in My Compost Pile?" infographic or order a few copies of "Take Care of Texas Guide to yard Care". 
Pitch Composting to Your Coworkers
You will need commitment from your coworkers to make this work, so do your homework. Present the project as a fun, practical way for your office to achieve your green ambitions. Set a date for a formal meeting with your team to introduce them to the project. 
Create a budget for the purchase of materials, like a compost container and worms. Establish a metric to measure your success, such as the weight of your trash output before and after the program. Arrange for volunteers to oversee collection and cleaning of the bin, or develop a rotating calendar for when staff should perform compost-related tasks. 
Start Composting
For small-scale composting, you can keep the bin indoors. Purchase an indoor-specific compost collection bin (or several) from a home goods retailer or repurpose an old container to make your own.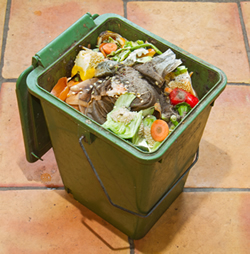 Red wiggler worms, which can be purchased from garden retailers, are an essential part of an indoor vermicomposting (composting with worms) system. These little guys can chomp some serious waste—one pound of worms can turn a half-pound of scraps into compost in a single day! Plus, they keep compost odors to a minimum and require little attention other than feeding them scraps. For more information, check out the EPA's detailed guide to composting with worms. 
Compost should have a mild earthy smell, but should not smell rotten. If you experience any problems with your composting program, stay the course with these tips to resolving common compost issues. 
If you have the space, several outdoor composting methods can be employed; anything from a hole in the ground to a simple wooden crate will do. Detailed information about different DIY compost bin methods can be found on the Texas A&M Earth-Kind site. 
Use Your Compost
After a few months, you can start harvesting your compost. The composting process will leave a soft, dirt-like material that is rich in nutrients for plants. You can separate the processed material from everything else by sifting the compost through a screen, or expose the compost to sunlight to drive the worms to the bottom and skim the compost off the top layer.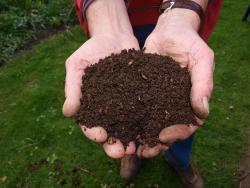 Add the fresh compost to potted plants in the office, spread a thin layer on the grass, or add it to outdoor flower beds. The compost will help soil absorb and retain nutrients and moisture, as well as protect plants from pests and diseases. If possible, plant vegetables and herbs in or around the office—you can harvest them later for a fresh addition to salads and sandwiches.