Commute Solutions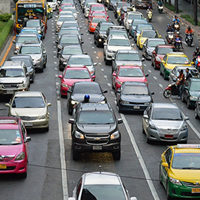 Most employees need to get to and from work on a regular schedule. The 2013 U.S. Census found that more than three-quarters of American commuters travel by individual car, a statistic that you might confirm with a look at traffic patterns where you live. Here are some solutions to help your workforce reduce traffic congestion, mitigate air pollution, and relieve stress while they Take Care of Texas.
Carpooling
One of the easiest solutions is to get more workers in each vehicle by carpooling. This simple but impactful practice can take vehicles off congested roads, build relationships among coworkers, depopulate parking lots, and increase productivity among less-stressed workers. Of course, some will figure this out on their own, but you can get the ball rolling by:
Setting up a "ride wall" bulletin board (physical or virtual) where employees can post and compare their commute routes and arrange for shared rides, 
Designating favored parking spaces or other incentives for vehicles with two or more employees, or 
Offering partial reimbursement for carpooler travel costs such as gas and tolls.  
Public Transit
Public transit moves far more people than individual vehicles and is therefore a terrific way to keep the Texas air clean. However, it is often slower than driving. You can choose to mitigate the effects of mass transit commutes with some of the following options. 
There is free wi-fi on some public buses and trains, including San Antonio's VIA, Austin's Capital Metro, and Dallas' DART. Some employees may be able to use this time to respond to emails or plan meetings before they even get to the office. 
Incentivize mass transit by including its use in a company-wide challenge to reduce single-driver commuting, or reimbursing employees for transit fares. 
If you have a large workforce but no bus stop nearby, establish a shuttle to collect bus riders from the nearest stop(s) during work hours. This will save parking spaces and make mass transit a safe, convenient option for your employees.  
Bike to Work
Cycling is not only a great recreational activity, it's a practical solution to getting your workforce to and from work. Here are some tips to get your folks pedaling.
Sharing the road with cars can be intimidating, especially for beginning cyclists. Your workforce can plan safe routes with the help of Bike Texas, any local regional bicycle advocacy groups that may exist, or your local municipal transportation department. 
Cycling can be a rigorous workout. If possible, provide a shower and locker room that cyclists can use to rinse off and change before work. 
Bicycles are often a target for thieves and don't fare well when exposed to sun and moisture long-term. Make bikes welcome at your workplace by installing a bike rack in a safe place, or invite the bikes indoors with a designated bicycle parking area. 
Alternative Schedules
Adjusting your employees' work schedules can be another way to reduce traffic congestion. Traveling at different times can help some employees avoid the standard rush hours in the morning and afternoon. 
"Early birds" could start and end work earlier in the day so they can drive before the morning and evening rush hours. 
"Night owls" could come in and leave later in the day, allowing them to endure only the tail end of rush hours. 
If your business model allows for it, a staggered four-day, ten-hour-per-day work week would result in fewer cars on the road and in the parking lot. 
Some employees may be able to telecommute, if their work allows for it.