Community Spotlight Shines on Youth Program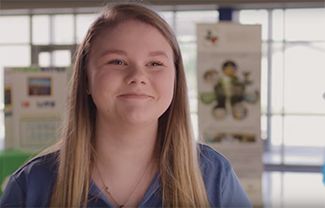 What are teenagers capable of? That's just what the Texas 4-H Water Ambassadors Program aims to find out.
Through the program, students have the chance to develop leadership skills and gain advanced knowledge in science, technology, engineering, and management of water in the state.
Teens Learn About Water in Texas
Ambassadors, as the students in the program are known, come from all over Texas to participate in a Youth Leadership Academy. The Academy is an educational tour where the teens learn about ecosystems and water resources, uses, and quality. On the tour, ambassadors hear from leaders in the Texas water industry, gain an appreciation for the complexity of managing surface and groundwater, and develop an understanding of the value of water to local, regional, and state economies. They also learn about water conservation strategies, applied research and technology, and water law, policy, and planning.
Ambassadors Give Back to Their Communities
After they finish the Youth Leadership Academy, each ambassador commits to a minimum of 40 hours of annual service to promote water conservation and protection by educating others and performing service projects. They volunteer at local 4-H clubs, schools, fairs, and community events, and assist local water utilities and conservation districts with outreach activities.
An Award-Winning Environmental Program
Each year, the Office of the Governor and commissioners from the Texas Commission on Environmental Quality recognize outstanding achievements in environmental preservation and protection through the Texas Environmental Excellence Awards. This year, the Texas 4-H Water Ambassadors Program was selected for this award, which is the state's highest environmental honor.
Do you know of an inspiring environmental project or program that deserves to be recognized? The TCEQ is currently accepting applications for the 2020 TEEA. There are ten award categories, ranging from youth and education to pollution prevention and agriculture. Hurry, the deadline to apply is September 27.