Celebrate National Groundwater Awareness Week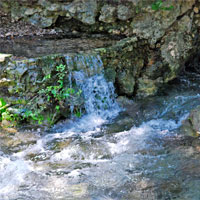 National Groundwater Awareness Week is March 7–13. This week promotes greater awareness for groundwater and how we can each do our part to protect this valuable resource. Groundwater provides a large percentage of the water supplies in Texas, so it is important to recognize this significant resource and learn how each Texan can do their part to protect our groundwater supply.
The Basics of Groundwater
Groundwater is found in layers of sand and rock called aquifers. Aquifers typically consist of gravel, sand, sandstone, or fractured rock like limestone or granite. These permeable materials have connected spaces that allow water to flow through. The speed at which the groundwater flows depends on the size of these spaces in the soil or rock and how well the spaces are connected. The groundwater supply is replenished by rain, snow melt, or runoff moving through the overlying layers of soil and seeping into the aquifer below.
Groundwater is Important
Although groundwater is out of sight, it is a very important resource. In Texas, groundwater provides 62 percent of all freshwater that is used and supplies 75 percent of the water that is used for agriculture. Also, groundwater is a source of drinking water for more than 11 million Texans.
Protecting Our Groundwater
The quality of Texas' groundwater is generally good, and you can help keep it that way! Check out these simple ways you can avoid contaminating our groundwater:
Dispose of chemicals properly. Find out if your area has a Household Hazardous Waste program.
Apply fewer pesticides and fertilizers. 
Recycle used motor oil. 
Clean up spills from your vehicle or equipment. 
Visit the Keep Our Water Clean page to find more water quality tips. 
Learn More About Groundwater
The Texas Groundwater Protection Committee offers more information about groundwater.