Celebrate Drinking Water Awareness Week May 3-9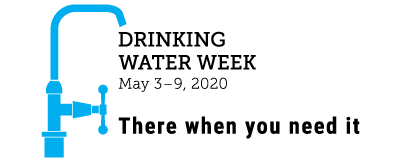 We often take clean tap water for granted. This resource provides hygiene, safety, and economic prosperity — all necessities for a high standard of living. Bad news about drinking water quality is rare, but it can be the only news we get on the topic. Most of the time, we turn on the tap without even thinking about it. The fact that we hear so little about drinking water quality means that the hard work of keeping public water clean pays off. 
Drinking Water Awareness Week
Since 1988, Americans have celebrated Drinking Water Week during the first full week of May. This week is to raise awareness about water quality, recognize the labors of those who keep water safe in our communities, and learn how each of us can do our part to preserve drinking water quality.
During the week of May 3-9, 2020, the American Water Works Association invites you join an educational journey into the world of drinking water. The AWWA has a library of materials, including kid's activities, government proclamations, celebration ideas, and social media graphics. Keep an eye on Take Care of Texas' Instagram and Facebook feeds for related posts as well.
The Consumer Confidence Report
The Consumer Confidence Report (CCR) is an annual document that details the quality of nearly every water system in the US. The EPA and TCEQ take drinking water safety seriously, so the Consumer Safety Report is easy to find. For more information on accessing the CCR relevant to where you live, explore the TCEQ Public Water Supply System search tool or find public water supplies on the Texas Water Watch map of counties.
Free Water Quality Materials
Take Care of Texas has you covered if you need materials to teach your community how to take care of Texas water. You can download and share them digitally. Relevant publications include:
Clean Pipes are Green Pipes infographic
Water ReCycles poster
Be Water Wise at Home infographic
Saving Water Saves Money bill stuffer
Rainwater Harvesting
Guide to Yard Care
Every Drop Counts sticker
Every Drop Counts mirror cling