Celebrate the 50th Earth Day, Texas style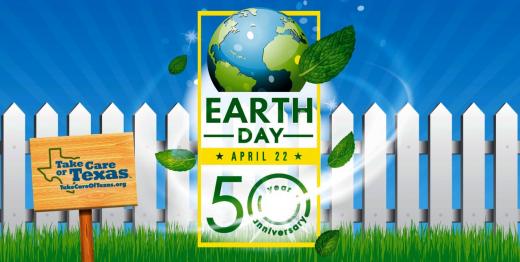 Wednesday, April 22 is the 50th annual Earth Day, a momentous celebration of our planet. We take this day to consider the state of our environment, what we have done to improve it, and ways we can take personal and institutional responsibility for improving the quality of life for all the planet's inhabitants.
Since the first Earth Day on April 22, 1970, we have made tremendous strides in improving air, water, and soil quality through curbing poor practices and embracing cleaner, safer ways of living, doing business, and enjoying our outdoor spaces.
A New Challenge this Earth Day
This Earth Day is a special one, not only because of the 50-year anniversary, but because humanity is united under a new common cause in our fight to overcome the COVID-19 pandemic. Nothing in our history has touched humans across the globe like this crisis, and Earth Day will be a time to reflect on our connection to each other and our environment.
Texas Rises to the Occasion
Texans have stepped up to the task of social distancing and staying home as much as possible in these trying times. With this situation comes unique challenges for us to reduce waste, conserve water, and keep the air and water clean.
The use of disposable safety equipment like gloves and masks is at an all-time high. Be cognizant of where you are disposing of your waste to keep it out of our streets and parks.
While fewer of us are driving, take-out dining and grocery delivery are more popular. Now Texans are learning how to reuse or recycle as much of this packaging as possible.
As many more workers are now telecommuting, they are learning to conserve while creating new patterns of water use, energy consumption, and waste generation.
True to our values, Texans are also taking care of the environment while staying home in many creative ways. We are picking up litter—safely—in our own neighborhoods. We are taking our office environmental practices home with us while telecommuting. We are practicing appropriate flushing judgment when using the toilet. We are learning what items are accepted by our local recycling programs and sorting accordingly.
#TheBestPlaceonEarth Photo Contest!
Some of us are taking our responsibility a step further at home and in our communities in spite of pandemic-fighting challenges. Now is the time to share how YOU Take Care of Texas with our Earth Week photo contest, for a chance to win a $100 gift card provided by H-E-B!
Check out all the entries by searching #TakeCareOfTexas #TheBestPlaceOnEarth on Facebook or #TakeCareOfTexas on Instagram. 
How to Enter
Take an original photo of yourself at home doing whatever you do best to conserve water, reduce waste, keep our water clean, and/or keep air clean. Examples include: composting, gardening, sorting your waste, repurposing old items in new ways, and cleaning up litter safely. Don't let those examples limit you! We want to see your creative, original, clever photos that illustrate the best ways that YOU Take Care of Texas these days.
Post your original photo on your Facebook or Instagram pages with the hashtags #TakeCareofTexas and #TheBestPlaceonEarth to be entered in the contest.
To win, encourage your friends to "like" and engage with your entry, and two qualified entries with the most interactions will win a $100 gift card provided by our partner, H-E-B! Photos must be posted by noon on Thursday, April 23 to qualify. See contest rules here.