Black Women in STEM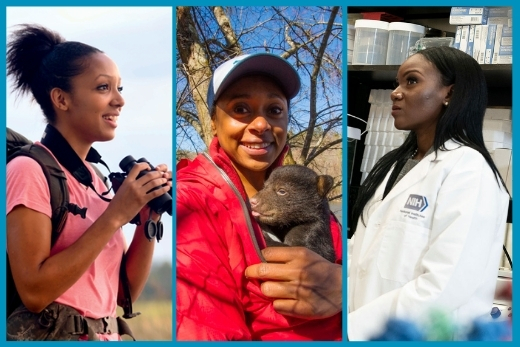 To celebrate Black History Month and International Women's Day, Take Care of Texas is highlighting three influential Black women who are fundamentally changing the field of STEM for the better. You can also view more Black History Month content  highlighting the stories and careers of two environmental investigators, Naomi and Fredrick, as well as former chairman of the TCEQ, John Hall.
---
Dr. Kizzmekia Corbett
Microbiologist – Immunologist – Innovator
While our country was still grappling with the COVID-19 pandemic, Dr. Kizzmekia Corbett was already hard at work at the National Institutes of Health as one of the leading scientists in developing a vaccine for the coronavirus with the pharmaceutical company Moderna. She has a PhD in microbiology and immunology and joined the NIH team in 2014, where she began working specifically in researching viral infections. She was one of the lead scientists developing the Moderna vaccine, which is currently being distributed across the nation. "I felt like it was necessary to be seen and to not be a hidden figure so to speak," Corbett said. "I felt that it was important to do that because the level of visibility that it would have to younger scientists and also to people of color who have often worked behind the scenes and essentially [who have] done the dirty work for these large efforts toward a vaccine."
Corina Newsome
Conservation Scientist – Birder – Activist
In response to the racism experienced by Christian Cooper in Central Park in 2020, graduate student and avid birder Corina Newsome organized #BlackBirdersWeek to highlight and celebrate Black people in the birding community. She currently works for Georgia Audubon as their community engagement manager. In her free time, she educates her followers on Instagram (@hood__naturalist) about equity and wildlife conservation. 
Dr. Rae Wynn-Grant
Large Carnivore Ecologist – Public Speaker – Advocate
Crawling into bear dens might seem like a dangerous pastime, but it's just another day in the office for Dr. Rae Wynn-Grant. She specializes in discovering the impacts of human activity on large carnivores in North America. Dr. Wynn-Grant is currently a research fellow with National Geographic where she shows others how important bears are to our ecosystems and advocates for making science accessible to diverse audiences. You can follow her work on her Instagram (@raewynngrant) and website.
Thanks for joining Take Care of Texas in celebrating Black History Month. We've loved highlighting some of the incredible people in our country, state, and organization that are making the field of STEM open and accessible to all.
---
References